Solution Spotlight: Pallet Flow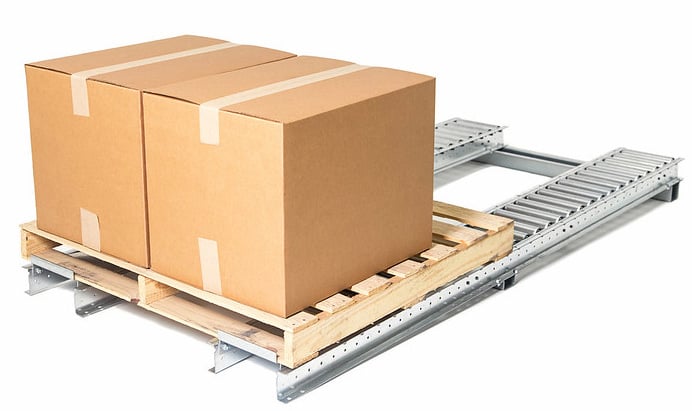 In the increasingly fast-paced world of order fulfillment, everyone seeks ways to streamline and simplify their operations. One area of order fulfillment that businesses are working to optimize is inventory management. Historically, warehouses have underutilized their entire storage space and relied on antiquated equipment to house their products. And when your storage solutions are inefficient, so are your workers.
With SKUs spread across your warehouse and stored in hard-to-access locations, pickers spend more time searching for the right products and fulfilling orders less. Static shelving has long been a go-to solution for businesses, but as order fulfillment evolves, warehouses must evolve with it.
When you need to store pallets, UNEX has a dynamic solution that will help evolve your fulfillment processes while cutting costs and streamlining order flow.
Meet Pallet Track, UNEX's pallet flow system with rollers or wheel rails designed to optimize inventory flow in your warehouse. Durable pallet track rollers or wheel rails create a dynamic pallet flow system for fast-moving SKUs that enable efficiency and storage density in your warehouse. Best of all, UNEX pallet flow systems can be customized to match the particular needs of your warehouse, meaning a complete overhaul of your existing space won't be necessary.
Our Pallet Track wheel rails are the perfect solution for GMA-style pallets. If you're mainly using single-face and euro-style pallets, Pallet Track rollers can help you flow these pallets with ease and efficiency. Whatever your particular needs may be, Pallet Track helps you store pallets in a way that increases SKU density and efficiency throughout your operation.
Instead of having scattered pallets on your warehouse floor, UNEX pallet flow systems enable a flexible, rugged, low-maintenance approach to storing and picking from pallets. With a tailor-made pallet track solution for your unique needs, you will experience more space for SKUs of all shapes and sizes and a more productive pick.
Take a closer look at the features and benefits of Pallet Track to see if our industry-leading solution is right for your operation.
Pallet Track Features
You have options for UNEX Pallet Track rollers and wheel rails, such as anti-backup stops, floor supports, special end treatments, and more. UNEX understands that order fulfillment looks different for every business, so these key features can be mixed and matched to optimize pallet flow for your particular operation.
With Pallet Track, you have two types of tracks to choose from. The one you ultimately implement will likely depend on the types of products you store, the size of your warehouse, and more.
Your first option is roller tracks. Roller tracks work well when handling single-face pallets, euro-style pallets with bottom boards parallel to flow, and plastic pallets with feet. Roller tracks are ideal for businesses that ship heavier loads since they provide high load capacity per roller and greater contact area. With roller tracks, you can opt for floor supports or special end treatments for attaching to rack beams.
Roller Track Specifications
Standard 3-1/2" x 1-1/4" x 12 gauge galvanized steel channel

Frame capacity of 500 lbs per ft when supported on 48" centers

Optional roller centers from 2" and up, depending on the load

1.9" x 16 gauge galvanized steel roller with 7/16" hex axle is rated at 170 lbs capacity each
Your second option is wheel tracks. A wheel track is a staggered wheel-type flow rail commonly used to handle "wrong way" GMA-style wooden pallets with bottom boards perpendicular to flow. These rails can be used in two or three-track configurations and equipped with anti-backup stops and floor-mount supports. You also get two-deep pallet storage lanes outfitted with ramp stops to ensure pallets come to a controlled stop.
Wheel Track Specifications
Standard 2-1/2" x 1" x 12 gauge galvanized channel

Frame capacity of 210 lbs per ft when supported on 48" centers

1-1/2" staggered wheel centers provide maximum support and minimize indentation in wood pallets

1.9" diameter steel wheels on 1/4" diameter axle are rated at 100 lbs capacity each
Again, the type of tracks you install will depend on your operational needs. Either way, Pallet Track creates a First-In-First-Out (FIFO), 2-deep pallet storage system for your warehouse that speeds up picking and packing while maximizing storage density.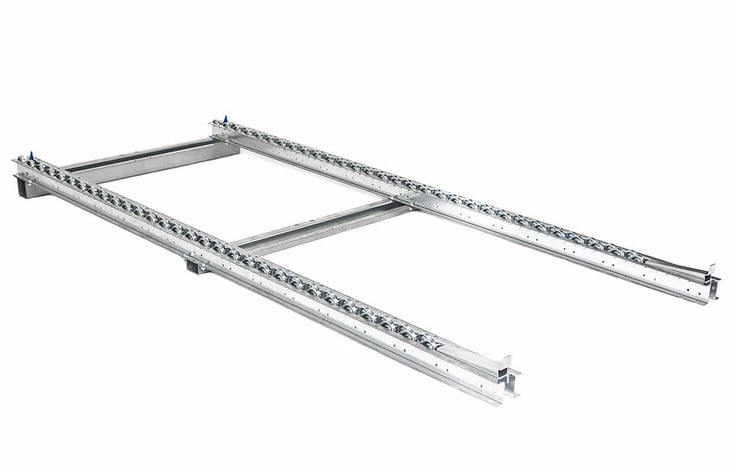 Additional Pallet Track Features:
Available for single or double-deep pallet flow systems

Available in lengths from 48" to 144" in 1" increments

Floor mounted or supported by pallet rack beams

Spring-loaded rear stop to prevent pallets from being accidentally pushed back and falling off the rack

The creation of an ideal FIFO storage system

Reduced fork truck operations

Reduced damage to inventory

Sustainable solutions — no energy consumption required

A safer environment for workers

Roller tracks and wheel tracks are available in custom track lengths.

Pallet Track Benefits
UNEX is committed to providing smart storage solutions that uniquely cater to your business's and customers' needs, and Pallet Track is no different. One of the main advantages of Pallet Track is that you have track lengths and mounting options. We'll work together to help you determine the best track lengths and mounting options for your operation.
Pallet Track also increases storage density. Considering that the national vacancy rate fell to an unprecedented 3.2% in 2022, this is a huge win for businesses needing space. Increasing your storage density within your existing space is a must as your operations grow.
Additionally, Pallet Track significantly reduces labor costs, and bolsters your bottom line. Instead of relying on warehouse personnel to scour your space for products, laboriously retrieve the inventory, and bring it back to the pick line, Pallet Track minimizes travel and picking times, all while lessening the burden of order fulfillment on your workers. With Pallet Track, pallets can be picked on one end and loaded on the other, which saves time that would otherwise be spent driving around the racks to reach the second pallet. The result? Efficient pallet picking processes that keep your warehouse running like a well-oiled machine.
Additional benefits of Pallet Track include:
The creation of an ideal FIFO storage system
Reduced fork truck operations
Reduced damage to inventory
Sustainable solutions — no energy consumption required
A safer environment for workers
Ready to See if Pallet Track is Right For Your Warehouse?
As your business grows, it's important to partner with storage solution experts that can help you proactively prepare for the future. Pallet Track can be tailor-made to fit the individual needs of your operation, and UNEX is committed to working closely with you to ensure you're more than satisfied with the results.
Connect with our space optimization experts to discover how Pallet Track can help maximize your existing warehouse space and increase operational efficiency.