SpanTrack carton flow rollers and flow beds are the most reliable carton flow tracks in the industry.
UNEX SpanTrack is a patented solution for warehouse storage and order picking. SpanTrack is unique because it drops into existing pallet rack, making installation a breeze. SpanTrack carton flow rollers and flow beds provide the most surface contact with items. Unlike older-style carton flow and plastic wheel rails, UNEX carton flow tracks prevent hangups that disrupt flow, ensuring products flow seamlessly to the point of pick.
SpanTrack carton flow tracks are extremely configurable with different flow options like aluminum or steel rollers, plastic wheel beds, or steel skatewheels. UNEX carton flow tracks are offered in light, standard, and heavy-duty capacity options. End treatments are customizable, from pick tray add-ons to knuckled ends and more. Guard rails, slow-down strips, in-feed guides, swing stops, and more accessories can be added to optimize performance based on your needs. Plus, all SpanTrack carton flow tracks come with a comprehensive seven-year warranty.
Explore UNEX Carton Flow Track Options For Your Facility
Low-Profile Carton Flow Tracks
SpanTrack low-profile carton flow tracks sit between beams in pallet racking to maximize existing, under-utilized space. The drop-in design can be added to pallet racks without any tools; they just require a front and rear hanger.
Low-profile carton flow tracks are suitable for full case picking or each picking applications and are perfect for racks with pallet storage above.

High-Profile Carton Flow Tracks
SpanTrack high-profile carton flow tracks sit on top of pallet rack beams and can overhang the front or back to maximize space utilization. High-profile carton flow tracks can easily be adjusted for various contouring options.
Because these tracks extend beyond the front face of the rack, you can gain an additional 24 inches of carton flow while maintaining full capacity.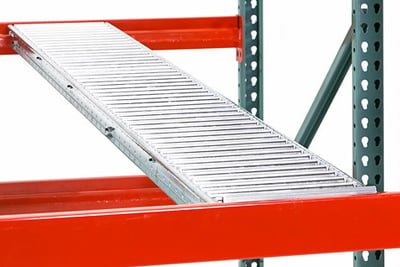 Hangerless Carton Flow Tracks
Adjustable length track sits on the ledge of step beams in the front and rear, keeping the face of the beams clear. These carton flow tracks contain a patented notch and engineered extrusions which are secured at the top of the inside step on rolled form pallet rack beams.
Hangerless carton flow tracks keep all components inside the rack, making it an ideal solution for facilities using labeling and order picking systems like pick-to-light that are mounted to the face of pallet rack beams.

Pushback Carton Flow Tracks
Notched track sits on top of step beams, with stops on front and rear, making it ideal for applications where product is loaded and picked from the front.
You can use pushback carton flow tracks to create a LIFO (Last-In-First-Out) system where product is picked and restocked from the front of the rack, making it ideal for bays that are up against a warehouse wall.
Related Reading: Using Carton Flow to Minimize Wasted Space Against the Warehouse Wall

Knuckled Carton Flow Tracks
Both SpanTrack Lane and SpanTrack Wheel Bed can be made with knuckled end treatments, angled at various degrees on the front end for increased efficiency in each picking applications.

Knuckled rollers or wheel beds rest on rack beams and overhang structure up to 24" to allow for maximum space utilization and increased capacity.

Carton Flow Tracks with Pick Trays
SpanTrack with adjustable pick trays presents open cases to order pickers so product can be picked from the case without interference from the shelf level above.
Ideal for each picking applications where product is being picked from open (split) cases, SpanTrack pairs perfectly with add-on pick trays. UNEX offers both static and adjustable pick trays in a variety of sizes to accommodate your specific needs.
Related Reading: Carton Flow 101: The Advantages of a Gravity Flow Rack
Let's Connect About Your Next Project
If you're looking to get started with carton flow tracks, you've come to the right place! As the original carton flow authority, UNEX has built a team of carton flow experts with hundreds of years of combined experience to serve you. We offer full, free engineering support on all projects so you can be sure you're creating a tailor-made set of carton flow tracks that will work for your unique application and stand the test of time. Contact us today to get started.
Try Our Free Carton Flow Track Design Tool!