UNEX SpeedCell vs. Other High-Density Storage Systems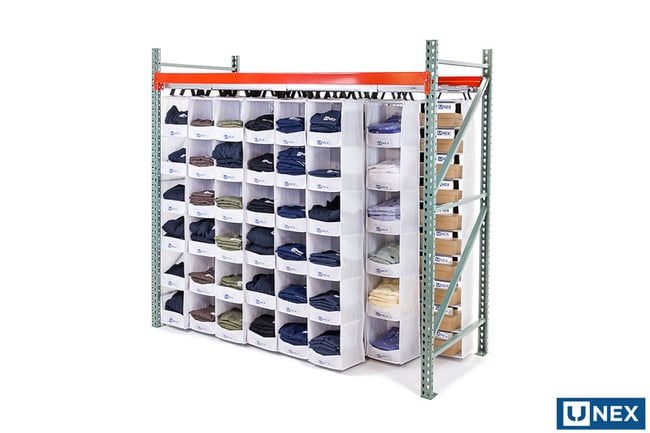 If you're looking to consolidate storage space and increase SKU density in your operation, you're likely searching for a high-density storage system like SpeedCell. UNEX SpeedCell is a dynamic storage solution that is flexible, durable, and cost-effective and offers defined, labeled locations for slower-moving products. SpeedCell can increase storage density in a given bay by up to 500%, making it an extremely attractive product for anyone looking to make a big impact on their bottom line without breaking the bank.
Related Reading: FIFO VS. FEFO - What's the Difference?
Comparing High-Density Storage Systems
Static Shelving, Automated Storage and Retrieval Systems (AS/RS), and Dynamic Storage
There are several different types of high-density storage systems that are ideal for storing slower-moving SKUs within a warehouse:
Static Shelving
Static shelving is a traditional storage method where each SKU is assigned a fixed location on a stationary shelf or within pallet rack on wire decking. Static shelving is often used for reserve storage in a dedicated section of the warehouse.
Automated Storage and Retrieval Systems (AS/RS)
AS/RS or goods-to-person automation is a warehouse storage system that uses automation technology to move SKUs from their location to the order picker. Cranes, shuttles, carousels, and vertical lift modules (VLM) are among the many automated systems used within warehouses and fulfillment centers today.
Dynamic Storage
Dynamic storage systems like UNEX SpeedCell are designed for person-to-goods order picking. These systems allow workers to mechanically move storage locations within an each picking operation and are ideal for storing slower-moving SKUs.
Cost of High-Density Storage Systems
To get a better idea of how SpeedCell compares to other high-density storage solutions, cost and flexibility are two top considerations. AS/RS or goods-to-person fulfillment solutions like vertical carousels are much more costly compared to dynamic storage solutions like SpeedCell.
For starters, the cost per location and overall cost to install the system will be significantly higher. Automated systems are much more costly to maintain and it will take much longer to see a return on investment. With static shelving, what you save on upfront costs, you may lose in productivity. Dynamic storage enables increased storage density for more pick facings.
With fewer pick facings and lower SKU density, static shelving typically increases search and travel time for workers which ultimately leads to wasted dollars over time that will quickly add up.
Flexibility of High-Density Storage Systems
Flexibility is critical in warehousing and for any growing fulfillment operation. Increasing consumer demands place a tremendous strain on these operations, so facility managers need solutions that will help them remain agile without breaking the bank. AS/RS makes it more complicated to scale up and down because it is a long-term commitment to space and money. Dynamic storage solutions like SpeedCell are simpler and more cost-effective, allowing operations to easily scale up and down according to their changing needs, seasonality, etc.
Unlike dynamic storage, static shelving does not offer the same space-saving benefits or flexibility. SpeedCell fits in existing pallet rack and can compress 200' of rack or shelving into 40' to create more pick facings and greater SKU density. This means less travel and search time for workers which is the ultimate way to save money within an order picking operation.
Static shelving cannot effectively use the full depth of existing pallet rack whereas SpeedCell can. SpeedCell columns are suspended from the patented steel track system which is made from pre-galvanized steel that integrates into any type of pallet rack beams. With SpeedCell, existing pallet rack can be used to consolidate storage space without needing to invest in an ineffective or high-cost system. This can also prevent or significantly delay the need for expansion which becomes costly.
UNEX SpeedCell Features and Benefits
Designs can range from 1-3 rows deep, up to 12 columns wide (144" wide bays)
Ergonomically designed
Operating temperature of -20°- 180°F (-29°- 82°C)
Resistant to: fire/flame & mold
Storage Capacity:

Cell: Up to 35 lbs
Column: Up to 240 lbs

Increase storage density by up to 60%
Reduce labor costs up to 40%
Transform vacant flue space into usable, highly efficient storage space
How does SpeedCell compare to other similar products?
To put it simply; SpeedCell is made with higher quality material and construction.
Unlike its competitors, SpeedCell's construction makes for a significantly sturdier product:
SpeedCell columns are manufactured with higher quality stitching to improve strength and durability.
The vinyl used to create SpeedCell is 13 oz. no-fray vinyl and is interwoven like a mesh inside to give it superior strength.
SpeedCell uses a very strong webbing to hang the columns from the suspension system. This method is more durable than the competitor products which often use the column material itself.
SpeedCell's suspension system uses pre-galvanized steel that fits in any type of beam: box, structural, or step; pick modules and mezzanines.
The combination of superior vinyl material and pre-galvanized steel makes SpeedCell significantly stronger than other products on the market.
SpeedCell's overhead structure nests completely between the beams, allowing a wire deck to be installed on the same beams from which the columns hang. Copycat products use an inferior method that sits proud of the beam tops, eliminating the beam's typical storage position.

When you're looking to increase storage density within your each picking operation, SpeedCell dynamic, high-density storage systems are ideal for storing your slower-moving SKUs. SpeedCell has the power to transform your facility from 100% static storage to dynamic, highly effective storage, and without the hefty cost of investing in an automated system.
Connect with a UNEX space optimization specialist today to learn more about SpeedCell. Click here to contact us or call us at 800-334-8639.