Join the Industry Leaders in Space Optimization Solutions at MODEX 2020, Booth #7854
Maximizing space within your facility shouldn't be rocket science! But if you're like many other supply chain management professionals, you may find you're running out of space. That's where our space optimization experts come in. We're heading to MODEX 2020 to showcase our innovative supply chain management solutions. Join us as we embark on a mission to help you save time, save money, and SAVE SPACE!
In booth 7854 at MODEX 2020, you can learn more about how UNEX Manufacturing's solutions can help you transform your facility. If you're running out of room, there may be no need to expand outside of your facility - the solution may be simpler and more cost effective than you think! Explore the UNEX Universe and discover the cost-saving solutions we're bringing with us to MODEX.
Engineered Space Optimization Solutions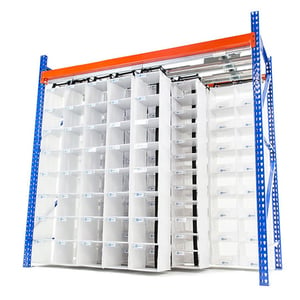 High-Density Storage Solutions for Slow Movers
Your search for a high-density storage solution stops with SpeedCell. This dynamic space, time, and money-saving powerhouse can consolidate storage capacity and dramatically increase pick facings. The result? Greater SKU density, which means less travel time and searching for your order pickers. Once vacant space becomes usable and highly effective storage space thanks to SpeedCell. Click here to learn more...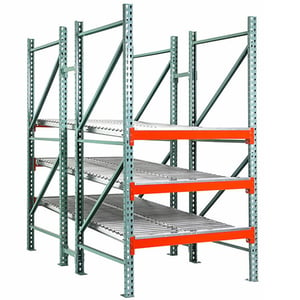 Carton Flow Solutions for Medium Movers

The original carton flow track, SpanTrack wheel bed and rollers are engineered to meet the unique demands of your order picking operation. The beauty of this product is it's ability to drop into existing rack structures. Increase pick rates and flexibility while reducing travel time for order pickers and, ultimately, cost. Backed by a 7-year warranty from UNEX, SpanTrack is durable and built to last. Click here to learn more...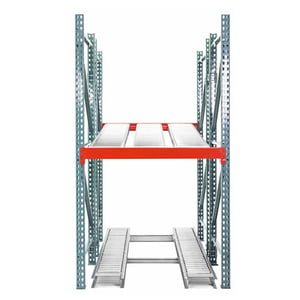 Pallet Flow Systems for Fast Movers

Pallet flow systems are an essential part of many material handling facilities, but choosing the right system for the unique needs of your operation is a critical decision. Our team of engineers developed a high-quality, durable pallet track system with rollers or wheel rails designed to maximize storage space and optimize flow. UNEX offers a number of options and non-standard lengths to fit your needs. Click here to learn more...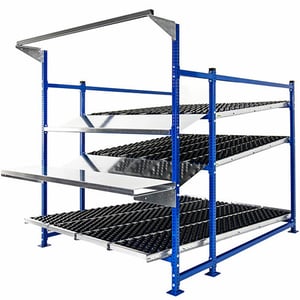 Looking to implement Lean Manufacturing best practices? Maybe you're looking for a versatile and durable solution that will improve ergonomics and maximize space? UNEX has the answer: meet FlowCell. FlowCell carton flow racks are proven to increase space utilization while reducing reaching and improving ergonomics within your operation. Not only will FlowCell keep your facility organized and running at top speed, it's also fully customizable - a full line of accessories is available to design a modular workstation fit for any operation. Click here to learn more...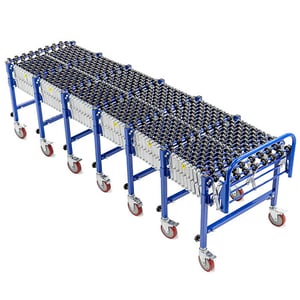 Flexible Conveyor Solutions for Loading Dock Efficiency
Conveyor-on-the-spot, UNEX Flex Wheel Series Gravity Conveyor is the ideal solution if you're looking to establish conveyor lines just about anywhere. Packaging, assembly, shipping, receiving, and more...Flex Wheel Series Gravity Conveyor is designed to convey flat-based items like boxes, cases, and cartons. This flexible gravity conveyor offers up to 200 pounds per linear foot load capacity, making it one of the most rugged and heavy duty solutions of its kind. As your operation's needs change, Flex Wheel Series Gravity Conveyor offers you flexibility and effortless agility. Click here to learn more...
There is no limit to what you can achieve when you partner with UNEX to help you determine how to make the most of your existing space. UNEX also offers a number of other products and solutions such as our pre-engineered carton flow rack, Roller Rack, Pick Shelves and more. To explore all of our space optimization solutions, click here.
Ready to Get Started? You can try one of our product configurators to design the exact UNEX solution to meet your needs. Not sure where to begin? Contact us to speak with a product specialist who can help you get started on your journey to total space transformation!