Traffic at malls, department stores and other brick-and-mortar retailers is way down and continues to fall. The US is seriously "overstored," according to most measures, with more than six times the amount of retail floorspace (used and unused) per person than in most European countries. With an increasing amount of that surplus falling into the "unused" category, some US retailers are starting to put those empty storefronts back into service – as fulfillment centers.
In the omnichannel retail world, it's a distinct advantage for distribution centers to be located closer to the customer because it creates a faster, more cost-effective fulfillment and delivery process. When existing stores – which are often located in established consumer markets – have a glut of available space, it only makes sense to repurpose some of it into local or regional product fulfillment, distribution and reverse logistics operations. It might even be able to serve as a customer pickup location.
Not that it's an overnight undertaking. Transforming a store – or parts of a store – into a functioning fulfillment center can create logistical, operational and staffing challenges, including the need for specialized technology, equipment and even packaging.
Often the most cost-effective solution is to use these converted retail spaces as micro-fulfillment operations to handle specific products, store-to-store transfers, or last-mile deliveries to certain geographic areas. In any case, the type and level of automation and equipment must be tailored to meet storage, labor and conveyance requirements.
In small-scale fulfillment environments, choosing modular, dynamic, high-density picking and processing systems can help ensure maximum flexibility and visibility in a compact design. Whether or not store-based fulfillment is the wave of the future, these innovative systems help retailers make the most of what they've got.
To maximize warehouse space, pick orders faster, and increase accuracy, choose UNEX SpeedCell, the dynamic, high-density storage solution designed to save time, space and money. With a patented track system and high-strength storage cells, SpeedCell optimizes storage capacity, increases SKU density, organizes product for improved visibility and accessibility, and dramatically increases pick facings. The result is faster order fulfillment, greater order accuracy, decreased travel time and lower labor costs. Even in a small space, that's a huge advantage.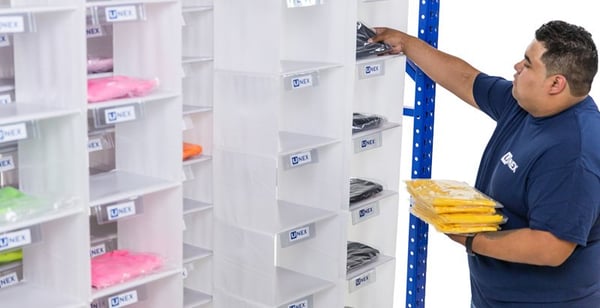 Posted by: Adrapkin