How to Set Up Micro-Fulfillment in a Matter of Weeks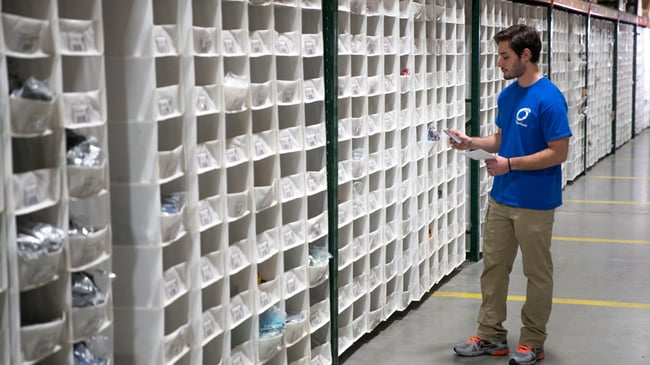 In this article we will explore the basics of micro-fulfillment and the various ways consumer demand has pushed retailers to change how they get purchased goods in the hands of their customers. There are now more ways than ever to shop with your favorite retailers. Whether you're looking for groceries from Target, clothing from Walmart, or a new TV from Best Buy, micro-fulfillment has become a cornerstone of retail operations around the globe. From in-store pickup to ship-to-store and local delivery, retailers are faced with several challenges in navigating last-mile delivery like never before. We'll address answers to questions like, "what is micro fulfillment" and "how can I setup micro-fulfillment quickly?" Continue reading to learn how you can leverage micro-fulfillment in your retail operation.
What is Micro-fulfillment?
Micro-fulfillment is the most significant change we've seen to logistics in quite some time. Customer expectations are driving massive changes in last-mile logistics, meaning how the consumer ultimately receives their purchases. Micro-fulfillment shrinks the footprint of a distribution center to bring the product closer to the consumers it serves. These small spaces rely on warehouse space optimization techniques in order to be efficient, and they are more often re-purposed areas or additions to retail facilities. The idea being that retail stores already have some inventory, why not re-purpose that inventory to serve more than traditional brick and mortar shoppers?
Let's take a closer look at different micro-fulfillment models.
In-store Pickup
Picking up e-commerce orders in-store is basically like take-out food but substitute pizza for consumer goods. How does in-store pickup work? A customer places an order for products online, and the retailer does the shopping. Then the consumer picks up the items at a counter. Many large, popular retailers have set the stage for how in-store pickup works and smaller, local retailers are starting to follow suit as well.
Ship-from-Store
Ordering products online to be shipped to you is the most common way e-commerce transactions work. Shipping from the closest store may save your customers time and could reduce (or increase!) inventory costs. Many retailers are able to offer online exclusives and special promotions as incentives for their online shoppers. Expanding your operation to allow for shipping online orders eliminates the need for the customer to ever set foot inside the store - a preferred shopping method for many consumers today.
Local Delivery
This newly formed gig has created entirely new ways to hire staff and conduct business. Now, instead of just in-store pickup or shipping, a retailer or consumer might work with third parties to execute the last-mile logistics. Local delivery providers like Shipt and Instacart typically offer same-day delivery on many items, creating yet another convenient way for shoppers to get what they want, when they want it.
Learn how to set up micro-fulfillment in a matter of weeks! Download the Quickstart Guide to Micro-fulfillment.
Why is the demand for micro-fulfillment growing?
Services like Amazon Prime, Uber Eats, and Fresh Direct have changed the landscape of customer expectations. Customers expect free and immediate shipping, which is creating a massive burden on companies that need to be profitable. The simplest way to get closer to fast and free shipping is to get the product closer in proximity to the consumer.
What are the key benefits of micro-fulfillment?
Customers get products faster.
Sure, shipping from a state away might be a two-day transit time, but if a retailer can ship from the same county, the time could be as short as the same day, or even hours.
It costs less to ship and time is money.
By shifting the majority of the travel time upstream from time of order (many) to inventory replenishment (once), retailers can gain the economies of scale of bulk delivery. If you can reduce the time orders take to get to the customer, you can reduce the cost.
Unfortunately, situations like the COVID-19 pandemic are placing incredible stress on the supply chain, making it more difficult to get essential items to those who need them most.
How can your store implement micro-fulfillment?
Pick orders from the store floor like a customer. By sending out order team members to literally "shop" the floor, retailers can move more inventory closer to the consumer.
Stage orders in storage. Whether planning in-store pickup or ship-from-store, you'll need a place to store the picked orders and a spot for your associates to interface with consumers, shippers, etc. Some of these solutions are as simple as shelves or as complicated as smart lockers.
Increase inventory in backrooms to accommodate additional demands. Some facilities may not have room on the floor for excess inventory and will need to store the extra items in their backroom. Depending on the retailer, this may be more or less ideal.
What are some of the challenges retailers face in setting up micro-fulfillment?
A retail store might not be able to increase inventory to levels high enough to accommodate the additional demand of e-commerce shoppers.
Stores typically don't have shipping docks, shipping staff, or may not have a refined order picking process. Because of this, stores need to hire and train staff to perform jobs that don't exist today. Sacrificing floor space for a shipping area and/or pickup desk reduces the available floor space for money-making merchandise.
Retail stores often have minimal backrooms, as JIT (Just-In-Time) inventory became the norm in restocking strategies. Implementing more stock to accommodate increased local demand is sometimes a daunting task.
How can UNEX help you achieve micro-fulfillment success?
UNEX SpeedCell high-density storage systems allow for massive increases in storage efficiency for low-volume SKUs. Use SpeedCell high-density storage solutions in your retail backroom to increase space utilization while organizing inventory. SpeedCell may be up to 20 times more efficient in space utilization compared to typical pallet rack storage and durable, flexible columns drop right into most existing rack structures. Replace flimsy wire shelving with SpeedCell to ease in-store pickups and consume the least amount of floor space in your facility. SpeedCell may be up to 8 times more efficient compared to traditional shelving.
A place for every order and every order in its place leads to customers who get their orders more efficiently and faster than ever. Creating an in-store micro-fulfillment center may be easier than you think and products like SpeedCell can help get you there quickly and efficiently. Contact a UNEX space optimization specialist today to learn more.