3PL Benchmark Report: How Does Your Warehouse Compare?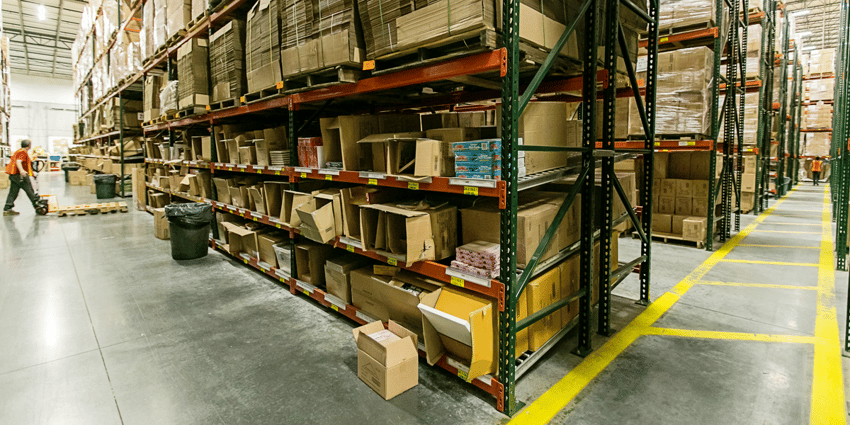 Historically, bigger companies have been able to meet their supply chain needs internally without the need to outsource storage, shipping, and transportation services. Those that did look to businesses to handle their supply chain management largely worked independently from one another.
But with the rise in consumer demand, coupled with the advent of the internet, companies needed to bolster their supply chain efforts in order to remain competitive in the current landscape and meet the needs of their consumer base. This created the space for third-party logistics (3PL) companies to grow and thrive.
Today, as a $213.5 billion-dollar industry in the U.S. alone, 3PL providers enable businesses to offload the heavy lifting of supply chain management and gain access to technologies and resources that enable better decision-making and improved supply chain functions. Ultimately, 3PLs help companies reclaim valuable time and money by expertly handling a wide range of eCommerce logistics processes, from receiving, picking, and packing to shipping and returns.
If 2021 taught us anything, it's that eCommerce merchants need to be flexible in order to accommodate the rise and fall in demand for goods and services. When partnered with the right 3PL, these businesses can efficiently streamline their supply chain processes and cut major costs across the board.
Naturally, the increasing need for businesses to outsource their supply chain processes has required 3PLs to constantly pivot and adjust their options to accommodate fluctuating demands and consumer behaviors. With no signs of eCommerce demand slowing down, 3PLs need to ensure their facilities and operations are working at peak efficiency in order to meet industry expectations and maintain peak throughput.
If you're wondering how your 3PL benchmarks stack up against the competition, you've come to the right place. Let's analyze some of the 3PL benchmarks your business should be keeping top of mind so that you know where improvements may be needed.
The Evolution of Quoted Costs
Unlike wholesalers and retailers, who need to manage warehouse and order selection processes efficiently in order to avoid eroding the margins they make on the goods they sell, 3PLs must perfect their warehouse and order selection processes because that is their product. Consequently, the KPIs for 3PLs are intrinsically linked to delivering solutions at the quoted price to receive, store, select, price, pack, and ship consumer goods.
But the marketplace is evolving, with product proliferation and service expectations of same-day delivery becoming increasingly commonplace for eCommerce merchants. As a result, 3PLs are moving away from the traditional pallet in/pallet out warehousing processes that operated on a quote per pallet handled price and instead adopting new solutions to handle tens of thousands of SKUs as single units.
Even as 79% of 3PL warehouses grew in 2020 and began taking on more work, the model of managing consumer goods at a set handled price remained the same. Considering the promised performance and services quoted is their sole source of income, 3PLs need to optimize their warehousing and supply chain management processes in order to enable year-over-year growth. Two ways 3PLs can make this happen is by focusing on:
Space Efficiency: Applying the proper equipment to the throughput requirements. The right products offer maximized space utilization geared to the businesses they serve. Better use of space equates to more efficient processes.
Quality Equipment: 3PLs need to buy equipment that can be used for a wide range of operations. This allows them to be more competitive and profitable on future contracts without the need to buy additional equipment to meet order fulfillment requirements.
Modernizing receiving, picking, packing, and shipping operations is critical for 3PLs to earn a solid profit on their quoted prices and deliver continued success for their businesses, today and in the future.
Addressing the 'Big A' Elephant in the Room
Expected to become the biggest U.S. retailer by 2025, Amazon is a primary concern and driver for how 3PLs conduct business. But Amazon's growing presence doesn't mean the other players in the market can't find success. In response to Amazon's growing reach, 3PLs are gearing up their warehousing and fulfillment services to enable businesses to remain competitive with Amazon and meet consumer demand and expectations.
There are a few 3PL benchmarks to keep in mind in order to effectively handle warehousing and distribution services quickly and cost-efficiently. First, fast-growing 3PLs have a higher likelihood of performing eCommerce or omnichannel fulfillment, while 3PLs with declining or no growth are 271% less likely to perform omnichannel fulfillment. This means 3PLs, if they aren't already, should prioritize working with eCommerce merchants if they want to achieve steady growth in the long run.
Next, 27% of 3PLs believe diversifying their fulfillment types will be a key growth driver going forward. If you've traditionally limited your business to working with one or two key accounts, consider how your operations can expand to accommodate new and different contacts. It's also worth noting that 66% of 3PLs see new customer acquisition as a main growth driver, further driving home the point that finding new businesses to work with will be critical to enabling 3PL success.
The key here is working not to unseat Amazon as the king of the consumer goods jungle, but instead empowering other businesses to optimize their warehousing and fulfillment services so they can operate on a similar level.
Capacity Constraints
There's no shortage of opportunities for 3PLs to capitalize on in 2022, but many are struggling to overcome warehouse capacity constraints and available warehouse properties in order to meet the needs of their customers. 77% of 3PLs operate five or fewer warehouses, with 62% of them having less than 250,000 sq. feet of warehousing space to work with. This can make it hard to diversify fulfillment types and bring on new customers, both of which are critical growth drivers for 3PLs.
27% of 3PLs believe finding and acquiring additional warehousing space is one of their top business challenges, so how can your 3PL avoid capacity constraints and continue to expand lines of fulfillment down the road? Opening up new warehouse properties is one solution, but that can bring with it additional costs and added stressors for your operations. It doesn't help that there is only 5% of commercial warehouse space available in the U.S.
Making the most of your existing warehouse space and embracing innovative tools that simplify and streamline your processes is where your 3PL can find true value.
UNEX: Smart Storage Solutions for 3PLs
At UNEX, we're experienced in implementing innovative solutions into your logistics operations as a simple way to optimize your space for increased productivity. Our industry expertise and knowledge on space utilization, order picking, and storage equipment position us well to effectively benefit 3PLs and cater our industry-leading solutions and services to their particular needs.
Together, we'll work to hit your 3PL benchmarks and position your business for long-term growth and success. To get a sense of how our storage solutions can help you best utilize your existing warehouse space, check out our free product configurators that allow manufacturers, retailers, order fulfillment, and logistics operations to create the exact UNEX solution needed to optimize workflows and maximize warehouse storage.