Best Practices for a Seamless Returns Process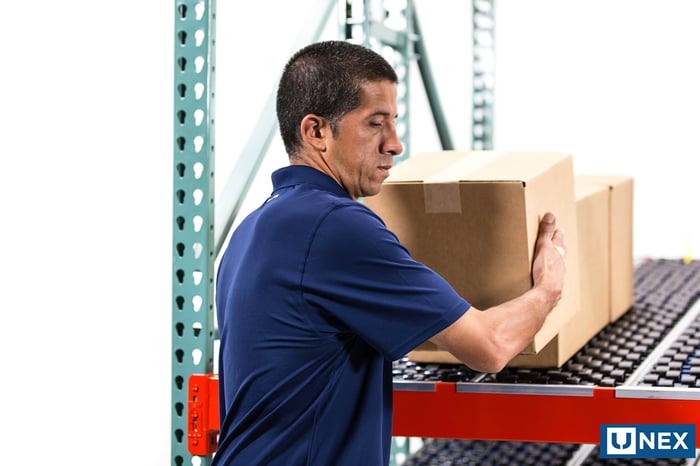 An efficient product return process within your overall reverse logistics strategy is essential for streamlining operations across your supply chain, reducing waste, and running efficiently. According to a 2022 National Retail Federation report, more than 16% of retail products are returned. That can result in significant losses, as industry experts estimate the cost of returning a product, which includes processing, transportation, product liquidation, and discounts, at 66% of its retail value.
Given these high costs, the need for an optimized return process is clear. This means developing a streamlined way to accept, inspect, and process returns and, when appropriate, prepare returned items for resale or recycling. By implementing an efficient reverse logistics process, you can reduce waste, strengthen your bottom line, and encourage customer loyalty.
Key Components of an Efficient Returns Process
An effective returns process must address every step, from receiving and recording returns to reselling or disposing of the returned products. This includes:
Tracking returned inventory
Restocking items
Reselling products at discounted rates
Reusing products when possible
Appropriate recycling of products or components
Disposing of products that are not resalable, reusable, or recyclable
Let's break it down further by exploring 3 key areas of your operation that play an important role in implementing an effective returns process.
Technology
The right processes and technology for returns can give your company a significant competitive advantage. A warehouse management system (WMS) and/or return management system (RMS) are an important part of an effective solution. Your software can handle the paperwork, freeing warehouse employees to focus on getting stock back into the sales channel.
Product Flow
Once received, returned merchandise must be sorted. Employees can sort saleable items on pallets staged by destination zone in a putaway area. When a pallet is full, it can be efficiently moved to the appropriate storage area. By optimizing the flow of receiving, processing, and preparing products for their next step after being returned, you can reduce the chances of products becoming lost or damaged during the process.
Storing Returned Products
To keep your warehouse organized and facilitate efficient returns, it's important to establish a smooth flow of materials, but storing these returned products in the right storage mediums can help keep materials organized and moving smoothly toward their destinations. Utilize space-saving storage solutions to get the most out of your square footage and increase your capacity to handle returns. Implementing space-efficient storage solutions like carton flow systems will allow you to store more products in less space, and will increase productivity as employees are able to handle returned products more efficiently. With the right warehouse storage solutions, you can dramatically improve productivity and accuracy while reducing physical strain on employees in the returns process.
Storage Solutions to Streamline Returns
Through proper planning and right-sizing storage mediums for the products being returned and stored, operations can see a significant increase in productivity that leads to dramatic cost-savings. UNEX offers space-saving solutions that will:
Condense storage to maximize space
Increase throughput
Increase efficiency
Ensure inventory is well-organized and easy to manage
SpanTrack Carton Flow Systems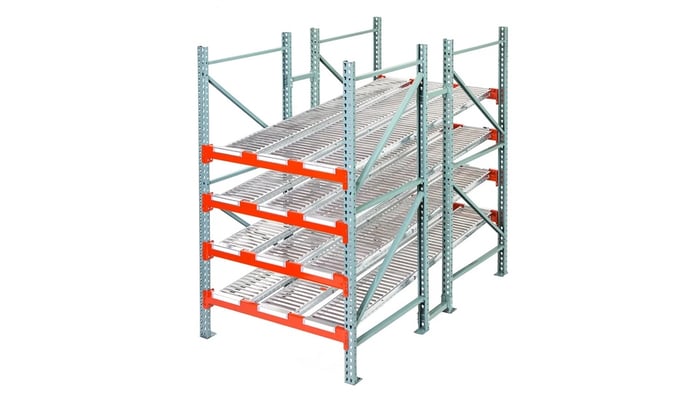 UNEX manufacturers carton flow solutions like SpanTrack Lane and SpanTrack Wheel Bed that drop into existing structures to create a robust flow system that is well-suited for companies managing a high volume of returns.
SpanTrack offers superior flexibility, versatility, durability, and unrivaled flow, providing up to 300% more product contact than plastic wheel rails.
SpanTrack features include:
Drop-in design for easy installation
Freezer/cooler rated to below zero
Light, standard, and heavy-duty capacity choices
Customizable end treatments that attach easily to any pallet rack setup
Interior notching saves vertical space
Available in to-the-inch increments
SpeedCell Dynamic High-Density Storage

SpeedCell is a dynamic high-density industrial shelving solution that, like SpanTrack, integrates directly into existing rack structures. SpeedCell is the ideal solution for companies managing a high volume of returns because of its ability to consolidate storage capacity and dramatically increase SKU density. SpeedCell can compress 200' of rack or shelving into 40' of highly organized space.
SpeedCell features include:
Offered in 6 standard column sizes ranging from XS - XXL
Ergonomically designed
Operating temperature of -20° to 180°F (-29° to 82°C)
Resistant to flame and mold
Storage Capacity - cell: up to 35 lbs; column: up to 240 lbs
5-year warranty
If you have pallet racking, you're ready to install SpeedCell! If you don't have pallet rack in your facility already, or you need to purchase new racking, UNEX offers SpeedCell Ready Bay. This total solution comes with SpeedCell columns in your choice of size, plus the rack structure you need to start storing returned products in a high-density shelving system in minutes.
As a leader and innovator in dynamic storage solutions, UNEX can help you determine the right solutions to create a smooth and efficient returns process for your business. Connect with our team of experts to learn more about the solutions that will work best for your unique needs. Contact us today!