7 Ways to Maximize Your Experience with UNEX
UNEX offers unique value to customers in fulfillment, retail, logistics, and manufacturing.

At UNEX, we are committed to providing customers with a top-notch experience from the time you discover our products, to engineering, sales, installation, and beyond. We provide innovative products and a world-class customer experience for organizations across the supply chain. From manufacturing to fulfillment, logistics, retail and more, UNEX offers dynamic storage and gravity-fed conveying solutions that increase efficiency and profitability across operations large and small.
Whether you have worked with UNEX throughout our nearly 60 years in business or are just discovering our range of engineered-to-order solutions for the first time, there are probably a few things you didn't know about us. For instance, did you know we offer full, free engineering support on all projects? That's right; our team is here to support you every step of the way. That's why we want to share our top tips for getting the most out of working with us. Read on to learn more about what you can expect during your experience working with our team.
7 Ways to Maximize your Experience with UNEX
1: Take advantage of our free product design tools.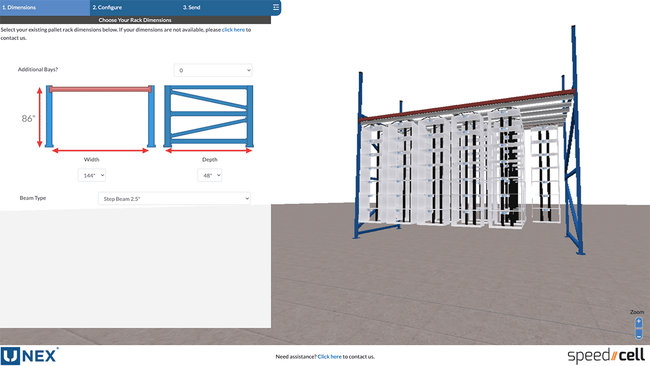 Our team of engineers developed three unique product configurators that allow you to customize manufacturing and warehouse storage solutions in a 3D sandbox environment. Design your own modular flow racks, carton flow racks, and high-density shelving systems to get a feel for how UNEX solutions will work within your operation. When you complete your design, we will send a 3D drawing and parts list straight to your email inbox. Don't sleep on this first-of-its-kind, free tool! Did we mention it's free?!
Click here to get started on your design.
2: Request a free product sample kit.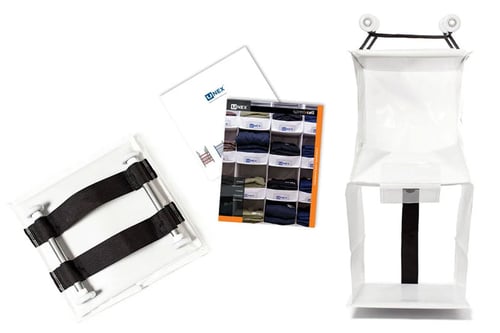 Another completely free opportunity - UNEX offers 5 different product sample kits. This is the best way to experience our solutions in real life aside from demoing our solutions at a tradeshow like MHI's MODEX or ProMat (which, by the way, we'd be happy to meet you there. Come see us)! You can request any of our free product sample kits at any time. We offer demo-sized versions of the following products:
Request a free sample kit today.
3: Leverage our team of engineers.
Like we mentioned before, take advantage of our free engineering support on all projects! We know how hard it can be to determine which solutions will work best for your unique situation, so we are happy to offer full and free engineering support to all customers. Projects large and small, simple and complex will all have access to our world-class team of engineers to help ensure your UNEX solutions work well within your space and meet your needs for the long term (our products are very durable, so expect to have them around for many years and we'll be here for you through all of them)!
4: Get a free consultation with our product experts.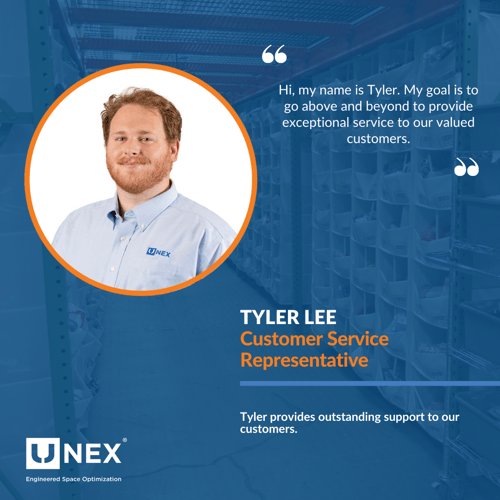 Our Sales Support and Customer Service teams are here every day we are open, answering common and not-so-common questions for a variety of customers across industries. They are happy to help no matter what! Whether you have a simple question or need a full walk/talk through a specific application, our consultative approach will ensure you're designing the perfect solution(s) to meet the demands of your operation. Whether you need help with installation, assistance determining what extra accessories or parts you may need to enhance your solutions or help navigating which UNEX products are right for you, our team is ready to guide you.
5: Need quick answers? Live chat with us!
On the flip side, if you just need a quick answer, get in touch with us via live chat right here on our website. You can locate our live chat in the bottom right corner of most pages of the site. The Sales Support team here at UNEX will be happy to provide quick answers to your questions without even picking up the phone or sending an email. If you need further assistance, the team will be happy to point you in the right direction.
6: Follow UNEX on social media.
Please do not miss out on following UNEX on social media! We know this sounds cliche, but we really do have a great team running our social media and we promise we are a great follow 😀
Don't miss out on the latest industry news and insights, exclusive UNEX news and new product launches, and the occasional pizza or gift card giveaway! We take pride in offering superior solutions, plus a fantastic customer experience, and our brand reflects that across LinkedIn, Facebook, Instagram, Twitter, and YouTube!
7: Subscribe to UNEX emails.
We send emails about 2 to 3 times per month covering topics for industries such as manufacturing, warehousing, fulfillment, retail, and logistics. Don't miss our UNEX solution spotlights where we take deep dives into specific applications across the supply chain. Our monthly newsletter will keep you informed on the latest happenings with UNEX and every once in a while you may even get an exclusive offer you will only find in our emails!

Subscribe to UNEX emails.
Aside from offering engineered-to-order carton flow, flow racks, high-density shelving, and gravity conveyors, we provide a myriad of free tools and resources to help make sure your experience is a great one. At UNEX, we are committed to the long-term success of our customers and their operations. We are passionate about helping you save space across your facilities and we're here for you when you need us. Be sure to use the 7 tips above to make the most of your experience with UNEX, regardless of whether you ultimately choose our products.
Bonus Tip! Check out our free, expert-backed guides. Click here to explore and download free resources for warehouse space optimization, understanding throughput for fulfillment, carton flow, 3PL solutions, lean principles, and more!