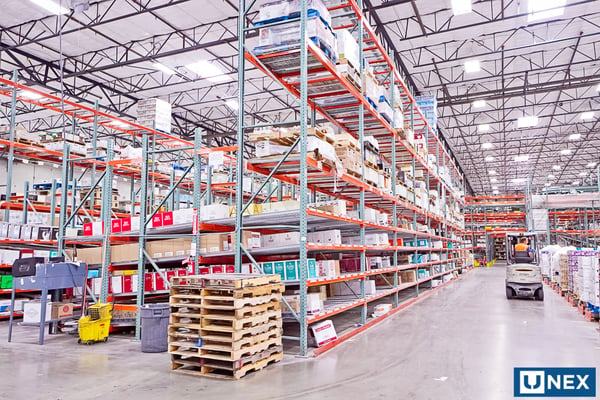 UNEX Manufacturing, Inc., the trusted industry leader in providing innovative order picking solutions, had an exceptional year in 2016, highlighted by new client wins, product introductions and industry awards for excellence. The company also added new seasoned employees to the team to support the organic growth the company has experienced.
Community service awards and recognitions by several material handling industry publications and associations position UNEX as a leader in the manufacturing, retail, wine/spirits, automotive and food/beverage markets.
"With the growth in e-commerce orders, making businesses pick a smaller amount of item numbers per order, but a greater volume of orders, companies are getting desperate for order picking solutions that help them improve picking accuracy, speeding fulfillment and reducing labor requirements,"

said Brian C. Neuwirth, VP of Sales and Marketing at UNEX Manufacturing.

"These organizations are reaching out to us to help them manage proliferating SKUs, increase space utilization in the warehouse and speed their order picking processes."
In the past year, UNEX has updated their carton flow racks and industrial workstations with accessories that hold monitors, tools or customized items. Their Pick-Plank solution, which helps to ergonomically reach cartons and pallets in a storage rack, was named a Best New Innovation Finalist for the 2016 MHI Innovation Award competition. The MHI Innovation Award serves to educate and provide valuable insights on the latest manufacturing and supply chain innovative products and services.
As UNEX continues to grow its client base with new customers in target industries and adds new products to its offerings, a change of sales territories became necessary to maintain exceptional customer support and service.
UNEX received the following industry awards in 2016:
Most Valuable Supplier (MVS) Award granted by the Material Handling Equipment Distributors Association (MHEDA), which recognized UNEX for demonstrating an exemplary commitment to their dealer network, their employees and their community.
Brian C. Neuwirth was named a Provider Pro to Know for 2016 by Supply & Demand Chain Executive The annual awards recognize leaders in the supply chain industry that offer solutions and services that bring game changing value to customers' businesses.
Food Logistics Top 100 Green Supply Chain Provider Awards for 2016 - UNEX was chosen for helping retailers, manufacturers and distributors invoke green warehouse processes by reducing energy usage and improving energy efficiency.
SDCE100 Award from Supply & Demand Chain Executive Magazine - UNEX was chosen for optimizing and reorganizing the warehouse space for Capital Candy Company that better utilized the existing space to handle a growing number of SKUs and to maximize pick efficiency.
Award for Excellence by the New Jersey Business & Industry Association (NJBIA) - These awards honor companies whose energy and vision have made a significant contribution toward improving the economy, the environment, their employees and the communities. UNEX Manufacturing was named in the Community Service category for their partnership with Spectrum360, which serves children, adolescents, young adults and adults on the autism spectrum and with behavioral and related disabilities.
Supply & Demand Chain Executive Green Supply Chain Award - UNEX was selected for providing eco-friendly designs for client warehouses that are not only good for the environment, but save on energy and operational costs while contributing to higher productivity and improved employee health and comfort.
UNEX's VP of Operations, Howard McIlvaine, was honored by Spectrum360 for his exemplary support helping people within the program. McIlvaine was recognized as a Hall of Fame 2016 Corporate Honoree.
"We look forward to a successful 2017, helping our clients outshine the competition with improved efficiencies and a focus on lean processes within their assembly and distribution areas," added Neuwirth.