Did you know that a carton flow rack system doesn't have to be a one-size-fits-all process? When it comes to implementing a carton flow rack, you truly can choose your own adventure. Here are the two most popular paths:
Purchasing a pre-engineered total flow rack system that includes a pre-configured rack and track structure
Sourcing each system component individually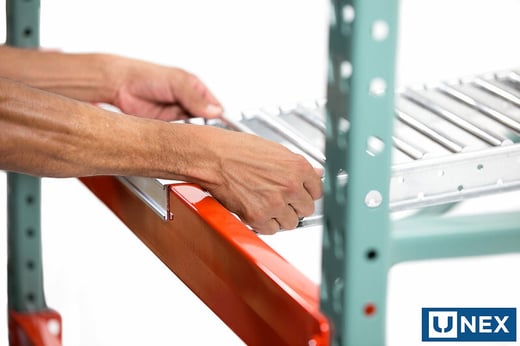 While either of these paths are viable options to implement a carton flow rack solution, sourcing each system component individually has some exclusive benefits. For example, when you purchase each piece individually, like purchasing just a track component, it allows you to use your existing pallet rack.
Or you can purchase precisely-sized racks that meet the specs of your warehouse space. Depending on your specific warehouse dimensions and what types of product you store, you can outfit that rack with the right-sized track in any number of styles and configurations for that application.
In addition to providing the flexibility to maximize your current footprint, purchasing track components individually to create-your-own-solution provides several benefits:


1. Reduced Costs
Pick-to-voice had similar issues. If the system is directing a picker to row 12, bay 6, shelf 3, location 4, that's very specific- but if the structure doesn't have clear, easy-to-read labels, it does the picker absolutely no good.
By purchasing your carton flow track components separately, warehouses experience significant cost savings for a couple of reasons. The first is that choosing the right style track and beam height results in better throughput and productivity. The ability to pick-and-choose each individual component that fits perfectly within your existing warehouse space will enable workers to do their job more efficiently, which reduces labor costs and increases throughput.
The biggest cost reduction comes from being able to repurpose existing pallet racks in the facility. Customizable solutions like SpanTrack drops in with no tools, making installation simple and achievable without an outside/hired installation team.
Related Reading: How UNEX Modular Structures Reduce Maintenance Costs


2. More Customization
When you create-your-own carton flow rack, you unlock the flexibility to tailor a system to your specific needs. Whether you need a light-duty, standard, or a heavy-duty solution, different end styles, different track lengths, etc, an engineered-to-order solution can be specifically designed to accommodate an application versus purchasing something off the shelf that's 'pre-packaged'. For example, SpanTrack by UNEX can be customized "to the inch" and offers over 20 end styles, allowing for maximum space utilization for every company's unique floor plan and desired storage requirements.
3. Effective Space Utilization
Designing a carton flow system to the very exact specs of your warehouse is an effective way to maximize space utilization. This results in increased throughput, higher worker productivity and operational efficiency versus buying a standard solution off the shelf and wasting space. How does this work? Imagine you're purchasing new kitchen cabinets. If you purchase custom kitchen cabinets, this enables you to have cabinets that fill up the full space, rather than requiring filler pieces to take up the last few inches a pre-sized component might have, which wastes valuable storage space with the inability to go all the way to the ceiling.
The same principle from the kitchen cabinet analogy applies to carton flow rack solutions. In a warehouse, every inch of space matters to make the most of the space, and buying pieces that are specifically designed to fit within the footprint, plus right sizing storage mediums is crucial to an efficient, more reliable, final product.


Maximize Productivity and Space with SpanTrack
When buying your carton flow rack components, it's important to ensure each piece has the ability to meet your application's requirements. Easily drop UNEX's SpanTrack into existing rack structures, or newly-purchased racks, to create a robust flow system that can be customized for almost any operation. Additionally, SpanTrack comes in a wide variety of styles and configurations, so it's easily customizable to accommodate the needs of a specific application.
Get started on the path towards improved productivity, increased throughput, and better space utilization by choosing your own carton flow adventure with UNEX. Click here to contact us or call us at 800-334-8639.