4 steps to turn your open floor space into a humming order picking operation.
If you are looking to build an order picking system from the ground up, you'll first need to discover where it fits in the grand scheme of your facility. Before you reach for the phone to call a consultant or purchase shelving in bulk, we wanted to share four steps that allow you to identify and lay out a storage system that improves the efficiency of your operation. For most distribution and warehouse operations, implementing a carton flow system in their storage area is the most cost-effective way to achieve this goal.
Implementing a carton flow system for your order picking operation will help you consolidate your storage space, pick SKUs faster, and improve the order picking power of your facility.
If you've already identified the need for carton flow but you're not sure what's next, here are four steps to get your project going.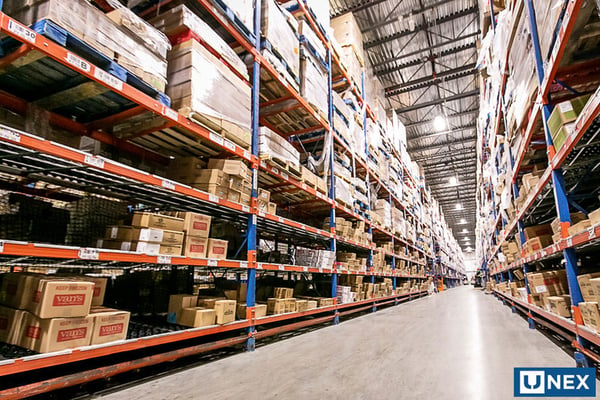 1. Define the constraints for your carton flow system.
When you first designed your warehouse, you likely put pen to paper to draw out your entire operation. This
includes docks for loading and unloading, ceiling heights, structural obstacles like pillars, office space, and any other items that affect the total available square footage of your facility. This drawing will come in handy again as you design your carton flow system. If you haven't drawn out your entire floor plan yet, this is where you need to start - remember, you need to ensure you prioritize operational storage and stock processing and minimize non-value-added features like offices and storage for empty pallets.
You also need to make sure the flow of your operation makes sense. For example, having your carton flow racks too far from the loading dock can waste a lot of time due to extra travel and disruptions to other processes. Your carton flow storage should be close enough to related processes to minimize footsteps, but far enough away to not create disruptions.
When designing a carton flow system for your operation, you likely face more constraints than simply square footage and flow. Will you use order picking equipment or workers to facilitate manual order picking? Will you need to navigate forklifts into aisles for replenishment? Will you use conveyors to move picked items out of your order picking area? Do you need reserve storage above your carton flow racks? All these factors will dictate dimensions for your carton flow system like width, height, and depth for your layout.
With these factors in mind, sketch out a dynamic storage area in the ideal position, but think three-dimensionally - considering every inch of vertical space available will help you maximize space within your order picking operation.


Explore UNEX SpanTrack Carton Flow Solutions
2. Design your racking layout.
Now that you have identified where your dynamic storage system should be and the role it plays in your overall operation, you need to design a layout that fits within your space. This will be a major determining factor in choosing your rack style.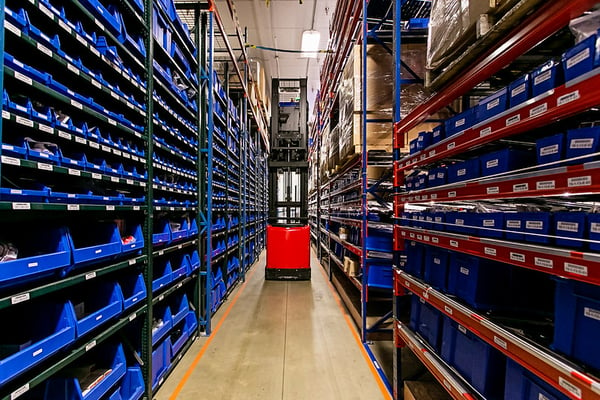 If you already have industrial pallet racks in your facility, this choice becomes pretty easy - you'll likely want to match your existing racking in your order picking area. This allows you to easily use uprights and beams you already have to create your carton flow system. Use the dimensions of your existing uprights to create aisles in your layout. If you need reserve pallet storage or floor-to-ceiling carton flow, industrial pallet racks equipped with SpanTrack carton flow will be your best bet. Remember to factor in your picking and replenishment methods to determine the necessary widths of each aisle.
Depending on your needs, there are also many other racking options are available. For example, distribution operations with low ceilings and no need for reserve pallet storage above their order picking bays can opt for customizable carton flow racks like Roller Rack. These gravity flow racks are ideal for manual order picking operations, can boost your space utilization by up to 50%, and are flexible enough to account for structural obstacles like pillars in your facility.
Once you've determined your rack layout based on equipment, picking methods, and footprint, you can determine how many levels and which style of carton flow you need.
3. Determine levels and profiles based on your SKUs.
The next step in designing your own carton flow solution relies on the weights, dimensions, and throughput of your SKUs, as well as the type of picks required for your inventory. Gathering this data will help you determine how many levels of carton flow you need, the necessary depths and widths of the carton flow solution, and the style of the carton flow that will work best for your situation.
Using the weights of your SKUs will allow you to determine the needed capacity of your carton flow, as well as the total number of SKUs you can safely store in a bay. With this information, you can incorporate a mix of light, standard, and heavy-duty carton flow solutions that allow you to exactly match your needs and avoid paying for more load capacity than needed.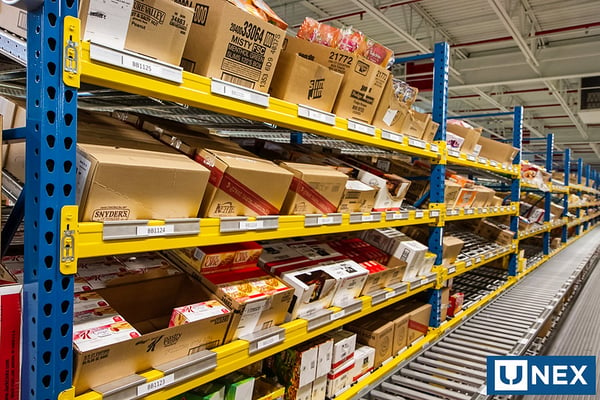 The length, width, and height dimensions of your SKUs will determine how many SKUs you can store in a single position, allowing you to design a storage system with enough levels per bay to effectively store your inventory and optimize space. Your throughput is also an important factor here - SKUs that are being picked at a high velocity will need to be stored properly to make replenishment efficient, and will likely need more pick positions and more depth than your less popular SKUs.
Finally, you'll need to understand how your picks are being made to determine the profile of your carton flow solution. SKUs that are picked from a master case (each picks) will need a different style of carton flow than full case picks - your each picks should be stored on knuckled track at a level that makes the opening of the case visible to an order picker. Accounting for these variables will allow you to design the most efficient rack and track solution that will work within your unique space.
Related Reading: Order Picking perfection
4. Design your ideal dynamic storage solution.
With this powerful information in hand, you're ready to configure a storage solution that fits in the designated footprint.
If you have determined that industrial pallet rack is the optimal choice for your new dynamic storage process, the UNEX SpanTrack Configurator allows you to build a solution from the ground up, using a mix of various carton flow track styles and capacities. If a customized flow rack option is the best fit, you can build your own Roller Rack to create gravity flow racks with your specified dimensions and complement it with useful accessories.
DIY Carton Flow Checklist
Use or create a drawing of your existing floor plan to determine where your new carton flow racks will be integrated into your facility.
Catalog your existing equipment (racks, order picking carts, forklifts, and more) that will play a role in your picking and replenishment process.
Define the requirements for your new carton flow system.
Consider everything that will impact your space and processes, like the need for reserve storage above your carton flow racks or adding in other equipment like conveyors, packing stations, etc.

Determine the weights, dimensions, and throughput of your SKUs.
Determine style of carton flow track based on your application requirements.
ie: dedicated lanes, wheel beds, knuckled track, low profile, hangerless, etc.
Determine capacity and dimensions of your carton flow track based on the size, shape, and throughput of the SKUs being stored.
Determine levels of carton flow required.

Design your customized solution with the SpanTrack configurator or send us your specifications for a Roller Rack system and we'll work with you to bring your design to life.


The space optimization experts at UNEX are always available to help you through this process. We'll work with you to identify your ideal footprint for a carton flow solution and help you design a system that keeps your order picking operation running smoothly. Click here to contact us or call us at 800-334-8639.