Ryan is our Central East Regional Sales Manager (Indiana, Kentucky, Michigan, and Ohio). He's worked at UNEX for over 6 years.

Ryan was born in Madison, IN and raised in Oolitic, IN. He attended Bedford North Lawrence High School where he played football, baseball, wrestled and ran track. He received a B.S. in Mechanical Engineering from the University of Evansville where he also played football and was a member of Lambda Chi Alpha fraternity. He then went on to receive an M.S. in Engineering Management from the Rose-Hulman Institute of Technology. Ryan is married to Ericka and they have three kids Payton (18), Lucas (16), and Ava (13), two Dogs (Charlie and Jax), three Cats (Peaches, Cooper and McKenzie), and a Horse (Roscoe). Ryan is quite the comedian and his favorite thing in the world is making people smile.
Hey, Ryan thanks for taking the time to answer a few questions. What is a typical workday at UNEX like for you?

There is no typical day. I work out of my house so if it is an office day I'm likely in sweats or gym shorts. I'll work until lunch and then work out in my basement or outside. Then back to work. Lots of computer and phone time. If I'm on the road it's the opposite. I'm on a sales call at a customer site, doing a presentation at a distributor, out to lunch or dinner with a customer, etc. A day might entail looking at an application on-site and offering my guidance, sitting in a conference room and going over our products or a specific application, doing quotes, getting drawings or pictures for a customer, finding out ship dates or providing some sort of customer service, touching base with a distributor about a specific project or because I haven't spoken with them in a while, following up on projects that we've already quoted, etc.

What are some unique challenges that come with working in the material handling industry?

The wide variety of applications you deal with, the wide variety of business types you interact with, for example, you deal with major automotive companies to small manufacturing companies, large retail and e-commerce companies (like Amazon and Walmart) to small warehouses. You deal with everything from the largest companies in the world to small start-ups. Each presents unique challenges. Technology is always advancing, yet what are realistically affordable solutions for the industry and what are passing fads? Keeping up with what is out there and how do you position yourself within the industry.

How much technical information and product knowledge is necessary to be successful in our industry and your job?

What we do is technical but also pretty basic on the scale when it comes to technology in material handling. You have to know our products and how they could/should be applied in a variety of applications. Experience helps because after a while you have seen the many ways our products can be used. To our customers, we are the expert for our product line. You also need to know other products and know-how they match up with our products and how they work together. It is important to know what is out there, the lingo, what our customers are dealing with and the challenges they face so that we can offer solutions. I like to know about products we don't offer just so I can suggest alternatives in case something else is the best solution.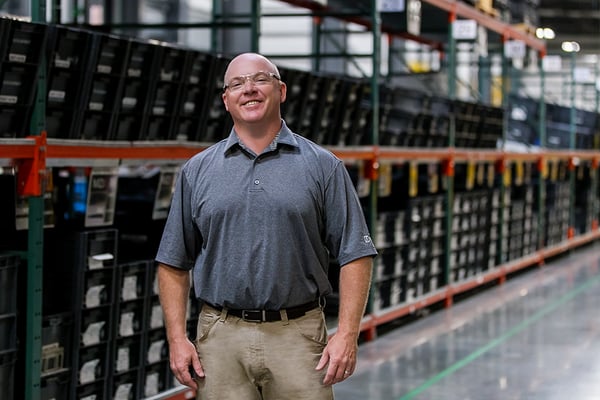 Thanks again Ryan for your insightful work and industry-focused answers...now on to some lighter questions.

What is your spirit animal? Why?

I don't really know. Never really thought about it. I do know that since I was a kid I always loved the Native American culture and wished that I was part Native American (unfortunately I'm not). My dad was a history major and history buff and always instilled in me a respect for their cultures. Bear, Wolf, Eagle. Not a clue. But I would love to get adopted by a tribe and be given a name.

Ok Ryan, you have a hot dog on a paper plate in front of you. What condiments go on it?

If it is a quality hot dog, like you get at an Indiana University sporting event because those are the absolute best, the answer is no condiments. I don't want to sully the taste of a quality dog. If it is an average or subpar dog then brown or spicy mustard.

You can only listen to one song for the rest of your life...what is it?

That would depend on the day. I have a lot of favorite songs. And I listen to a variety of genres, from Country, Rock, Bluegrass, Classic Rock, Pop, etc. But if I'm going 1 it is 1a Cherry Bomb from John Mellencamp and 1b Patience from Guns N Roses. (That's actually two songs Ryan!)

How do you unwind after a long day or week at work?

Watch sports. Drink beer with my friends and shoot the breeze. Watch my kids play sports. Work around my property. My friends and I have started a podcast. And I coach youth sports.

What is one thing you hope to accomplish by the end of the year?

Get my territory to over $6 million in sales. Get better at our podcast and get more listeners.
Thanks again for the interview, Ryan. We hope you reach your target and you become Podcast Famous!
UNEX specializes in designing high-quality, engineered space-saving solutions, serving several industries, including distribution, logistics, retail, and manufacturing. To learn more about how UNEX can help your business increase efficiency and optimize storage space within your operation,

click

here to contact us or call us at

800-334-8639

.