How to Increase Your Warehouse Space Quickly
4x your space in as little as 4 weeks with SpeedCell!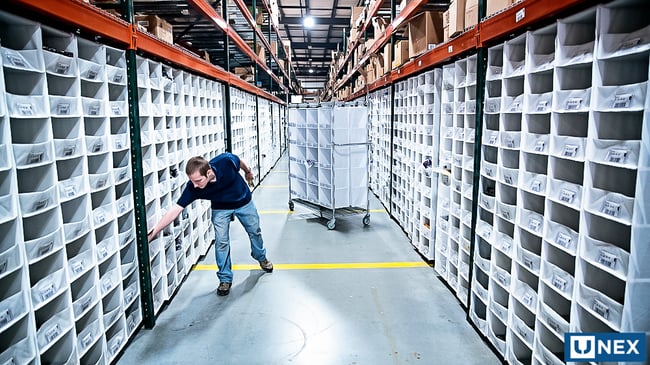 Consumer demand is increasing with no signs of slowing as we enter what experts are saying will be the biggest peak season ever. You are running out of space. You need more storage, but you can't find the right solution to increase your space significantly in a short amount of time.
Due to supply chain disruptions, demand has increased exponentially, which has caused supply to decrease very quickly for rack and shelving manufacturers across the globe. Surprising to no one, this has increased lead times for the warehouse storage solutions you rely on to keep your operation running smoothly. How can you support that influx of SKUs for the holiday rush if you have nowhere to store them? Well, we're here to tell you it is totally possible!
Maximize your existing space, add more storage, and do it quickly with SpeedCell dynamic high-density storage systems. If you've got pallet rack in your facility, you have everything you need to increase your space for a huge impact in a matter of weeks.
What is SpeedCell?
SpeedCell is a dynamic high-density storage system that is designed to utilize existing space within standard pallet racking for a quick and dramatic increase in pick facings. SpeedCell's columns are made of high-strength industrial textiles that are mold, rust, and fire-resistant. Rows of columns are suspended from a pre-galvanized steel track system that integrates into any type of pallet rack beams. Each cell has a unique location label holder and columns easily slide side-to-side to allow access to rear columns. SpeedCell can compress 200 feet of rack or shelving into 40 feet of highly organized space.

More pick facings and greater SKU density means less search and travel time while fulfilling orders this holiday season. Sounds nice, right? But how can this be cost-effective compared to say, static industrial shelving?
Let's Take a Closer Look at How SpeedCell Compares to Static Shelving
SpeedCell gives you over 4x more SKUs per square foot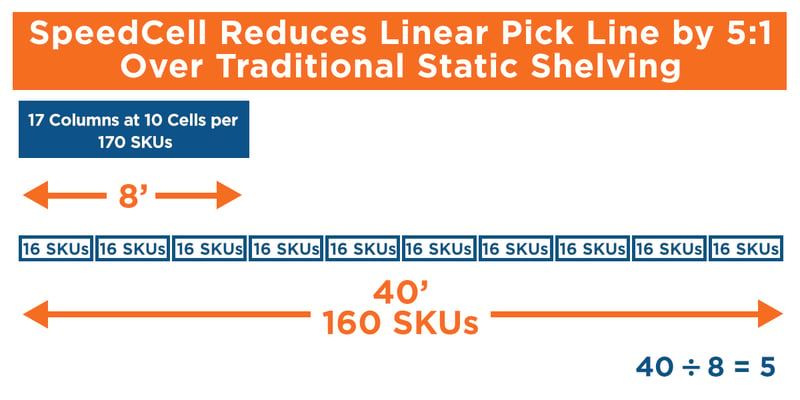 You can literally more than quadruple your SKUs per square foot when you choose a dynamic high-density storage system like SpeedCell vs. traditional static shelving. Increasing storage density in a pinch is actually possible right now! And the positive impact this will have on your operation will be immediate.
Related Reading: UNEX SpeedCell vs. Other High-Density Storage Systems
How to 4x Your Space in 4 Weeks with SpeedCell
Step 1: Know What You Need to Get Started
If you've got pallet rack, you're ready to install SpeedCell. Our team of engineers designed a standard suspension system that is compatible with selective rack or wide span rack systems. The SpeedCell suspension system fits within any type of beam: box, structural, or step, and within pick modules and mezzanines. Static or dynamic, SpeedCell designs can range from 1 to 3 rows deep and up to 12 columns wide in a 144" wide bay.
Step 2: Design the SpeedCell Bay That's Right For You
Our team of world-class engineers designed a free and powerful DIY design tool that allows you to plan and visualize your SpeedCell configurations to determine what will work best for your unique needs. With the SpeedCell product configurator, you can:
Select the width and depth of your existing pallet rack where you'd like to install SpeedCell.
Choose from popular configurations or build your own units from scratch.
Design as many units as you'd like and we'll send a free 3D drawing of each one straight to your inbox.
Once you complete your configuration, a member of our space optimization team will help guide you through the ordering process to ensure quick and easy delivery. Start your design today!
Step 3: Learn How Easy it is to Assemble SpeedCell
As we mentioned previously, a SpeedCell bay requires the use of existing pallet rack beams and posts. Once you receive your SpeedCell unit, all you need for assembly is a Phillips screwdriver and a drill with a 5/16" nut driver. Everything else you need to assemble SpeedCell comes included in the assembly kit we provide with your order. You can install SpeedCell in 4 simple steps.
Click here to download complete assembly instructions so you can be prepared to hit the ground running with your setup as soon as your SpeedCell units are delivered.
Watch the Video: How to Assemble SpeedCell
SpeedCell Features & Benefits:
Increases storage density by 40-60%
Reduces labor costs up to 40%
Transforms space into useable storage
Store more SKUs, take up less space, and increase efficiency

Ergonomically designed

O

perating temperature of -20°- 180°F (-29°- 82°C)
Resistant to: fire/flame & mold
Storage Capacity:

Cell: Up to 35 lbs.
Column: Up to 240 lbs.
See how watersports and marine accessories giant, Overton's worked within their existing footprint to add thousands of SKU locations with SpeedCell:

Download the case study to read the full Overton's success story.
We know it is tremendously difficult right now to find warehouse storage solutions that will save you time, space, and money, and be delivered on time - but it's not impossible! If you're like many other businesses hurting for more SKU storage amid a wave of supply chain disruptions, we've got your back! Contact us today to speak with a space optimization specialist who can help you get up and running with SpeedCell in a matter of weeks.