From Micro-Fulfillment to Meal Kit Delivery, How the Pandemic is Reshaping Order Fulfillment
Exploring two types of fulfillment operations and how they've managed a massive boom during the COVID-19 pandemic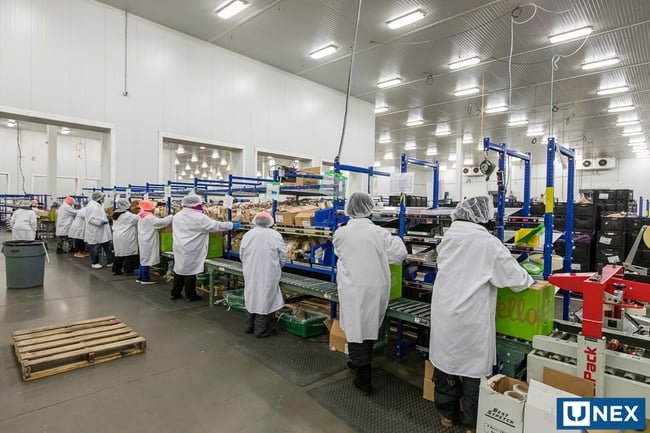 There is no denying that the COVID-19 pandemic has created a boom for specific industries. While some retail sectors saw their sales going down, other sectors such as eCommerce saw quite the opposite.
As shoppers stayed indoors and looked for a contactless and touchless buying experience, online ordering became a necessity. Businesses quickly shifted operations to accommodate growing demand and find solutions that help with rapid expansion without compromising speed or quality. In the "age of Amazon," this is no small task.
The pandemic has forced a rapid evolution for already-burgeoning eCommerce businesses around the globe. However, even as things slowly get back to "normal," certain businesses like meal kit delivery services and online grocery or those operating micro-fulfillment centers continue to see huge increases in demand.
The Rise of Micro-fulfillment
Micro-fulfillment is the most significant change we've seen to order fulfillment and logistics in quite some time. Micro-fulfillment shrinks the footprint of a larger fulfillment center to bring the product closer to the consumers it serves. As micro-fulfillment becomes a necessary strategy for companies trying to stay competitive, having the right fulfillment strategies and solutions in place is critical.
Micro-fulfillment poses two challenges: space and speed. Facilities must be able to quickly accommodate storing and processing high volumes of eCommerce orders while balancing multiple shipping methods, such as 2-day and same-day shipping, local delivery, and buy-online-pickup-in-store (BOPIS), to name a few.
For retailers, meeting this kind of demand for turnaround times requires optimizing existing storage space and deploying methods that help streamline the entire order fulfillment process. Facilities must find the right location to set up the operation, store inventory, and deal with the influx of orders, and do so in a short timeframe so that orders can be processed and delivered to the hands of consumers as quickly as possible.
UNEX solutions are uniquely designed to increase space utilization, improve pick speed, and boost efficiency for many different fulfillment applications, and micro-fulfillment is no exception.
Explore Two of Our Top Micro-fulfillment Solutions
1: SpeedCell Dynamic Industrial Shelving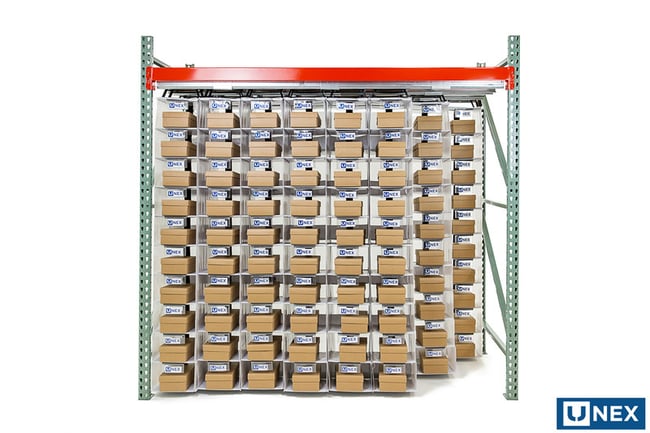 SpeedCell is a dynamic industrial shelving solution that can significantly increase space utilization in retail spaces such as backrooms and customer pickup areas, or small warehouses close to the last mile serving as micro-fulfillment centers. SpeedCell can compress 200' of rack or shelving into 40' of highly organized space - talk about maximizing your space! SpeedCell helps to combat some of the most common challenges retailers face in setting up mico-fulfillment. For instance:
Increasing inventory levels to accommodate an influx of eCommerce orders.
Finding space within a facility or retail location to set up shipping and/or customer pickup.
Implementing more stock to accommodate increased local demand.
The best part? SpeedCell columns integrate seamlessly into existing pallet rack, making it quick and easy for operations to tackle these challenges with very little effort. SpeedCell is extremely easy to install with minimal tools and can be set up in a matter of minutes, not days. Micro-fulfillment operations looking to increase inventory and maximize their existing space should look no further.
2: SpeedCartt Mobile Fulfillment Cart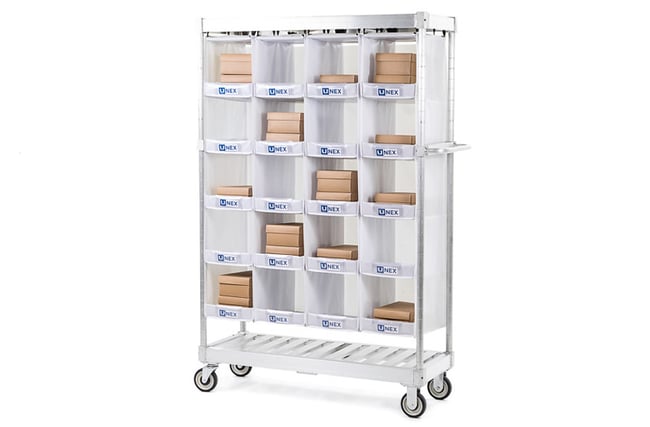 Another fantastic solution for micro-fulfillment is UNEX SpeedCartt. From picking orders with speed and accuracy, to organizing and staging orders for shipment or customer pickup, SpeedCartt is a mobile picking cart on steroids. Available in a number of different configurations, SpeedCartt comes with durable, built-in label holders to help keep inventory and orders organized throughout each stage of the fulfillment process.
Related: How to Optimize Retail Spaces with Picking Carts for Micro-fulfillment
If you're looking to get started with micro-fulfillment or for new ideas to increase efficiency in your existing operation, download our Quickstart Guide to Micro-Fulfillment!
Meal Kit Delivery Expansion - How are Companies Handling Demand?
Meal kit companies such as HelloFresh saw a million new customers join in Q1 of this year1 and are currently expanding to other cities at a rapid pace.2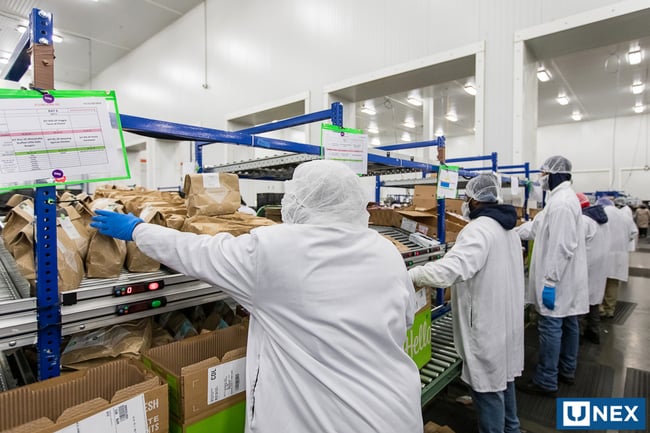 Newer types of businesses, such as meal kit delivery services, have seen a massive boom during the COVID-19 pandemic. With more people staying home, there has been an increased demand for meal kit delivery services like HelloFresh. Customers can choose meals they like and have the ingredients delivered to their doorstep, measured, and portioned out perfectly so they can start cooking immediately.
Meal subscription fulfillment processes present their own unique challenges such as running out of space to store, pick, pack, and ship orders due to a rapid increase in demand for this trending service. Workers need to access different ingredients quickly, pack everything correctly, and have it shipped in record time. For teams within companies like HelloFresh, having space-efficient and modular storage and kitting solutions has helped them continually weather heavy increases in demand with ease.
Having the flexibility to store a variety of ingredients and fulfill an influx of new orders, all while keeping new and existing customers happy is no easy feat. Thanks to the help of UNEX solutions like FlowCell and SpanTrack, HelloFresh has consistently been able to take on a huge influx of customers by maximizing space in their existing facilities and expanding into new metros. HelloFresh trusts UNEX to help them with this rapid growth by implementing FlowCell modular flow racks outfitted with SpanTrack, creating meal kitting workstations and assembly lines for packaging orders for shipment and local delivery.
HelloFresh uses a pick-to-light system to direct order picking. This system and others like it attach directly to FlowCell flow-through workstations. Items for each meal kit are loaded from behind the FlowCell flow racks onto SpanTrack carton flow tracks.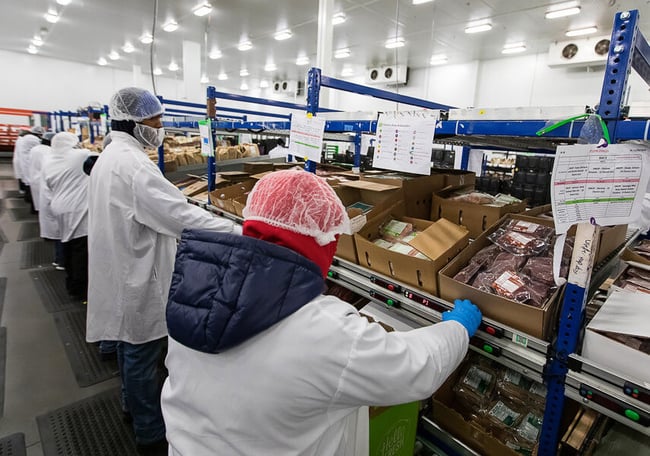 The items flow to the front of the pick line where workers pull items according to each order they are fulfilling, going down the line to complete the meal kit, package it up and ship it off. The SpanTrack roller lanes inside FlowCell make it an ergonomically friendly solution since items flow smoothly to workers without running the risk of muscle strains and injuries from bending and reaching into shelves or racks.
As a result, warehouse operations can pick ingredients, kit them, and assemble orders faster, while still retaining accuracy. For operations like HelloFresh, speed and comfort are a must while fulfilling large volumes of orders. In addition, having solutions in place that ensure workers have ample access and visibility is a major asset for increasing productivity and efficiency overall.
The Future of Micro-fulfillment and Meal Subscription Services
Even as lockdown lifts and stores fully re-open, it's clear that the eCommerce boom is here to stay. Businesses like those managing micro-fulfillment operations and meal kit delivery will continually be looking for ways to stay successful through periods of rapid growth. Identifying and implementing the right solutions for storing, picking, packing, and shipping orders at warp speed is vital to their success now and into the future.
Learn more about how HelloFresh works with UNEX to achieve success in their rapidly expanding business: Download our full HelloFresh case study here. And if you're interested in learning how UNEX solutions can help boost efficiency and productivity in your operation, click here to contact a Space Optimization Specialist today!


1: https://www.grocerydive.com/news/hellofresh-adds-1m-us-customers-in-q1/599601/
2: https://azbigmedia.com/business/hellofresh-expanding-to-phoenix-creating-up-to-1200-jobs/