Mobilize Your Picking Process with our Updated SpeedCartt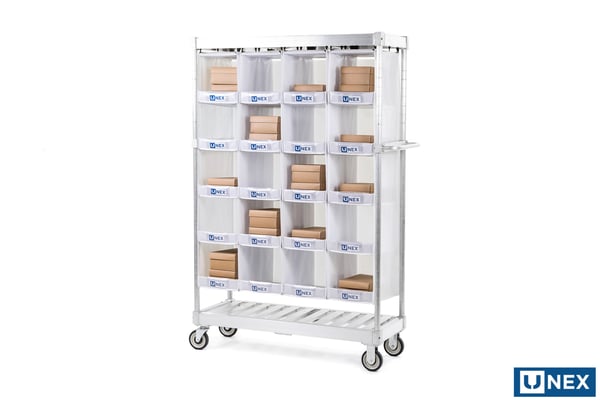 We've made a few updates to

SpeedCartt,

o

ur flexible, mobile solution for restocking, order fulfillment, seasonal demands, and more.

SpeedCartt is now available in four sizes and eight different cell configurations, making 16 different Cartt combinations. Our proprietary design provides superior flexibility in most order picking or piece-work circumstances. The variation of SpeedCartt combinations accommodates different sized orders, products, and picking methods. SpeedCartts are available with columns on a single-side or back-to-back loading for greater SKU accessibility.
Construction
Constructed from the same lightweight, yet high-strength industrial textiles as our standard SpeedCell high-density storage solution, we've designed the mobile SpeedCartt to endure for years demanding use in warehouse environments with low-maintenance. The frosty white non-fraying textile won't mold or rust and is fire/flame resistant. Each Cartt column is separated into ergonomically designed "cells," reducing the need for deep bending or stretching.

In an order picking environment, workers typically pick multiple orders by placing requested items into separate bins on a pallet truck (20 wide). Workers drag the pallet trucks along the aisles, eventually putting the order into a box for shipping. If you have a lot of pickers, cumbersome pallet trucks can cause backups and traffic jams in the aisles. UNEX SpeedCartt allows greater SKU availability than individual boxes and bins and is ideal for high circulation areas, replacing the need for pallet trucks. The SpeedCartt cells create segregated spaces to separate items; each cell has a unique location label holder making it easy to find your order or product.
Key benefits
Increased pick facings
Reduced travel times
Increased order accuracy
Maximize efficiency by picking multiple orders at the same time
5-year warranty
UNEX SpeedCartt provides years of convenience, safety assurance, and long-term usability wherever and whenever you need it.