NEW! SpeedCell Column Sizes
Now it's even easier to get started with SpeedCell dynamic high-density shelving.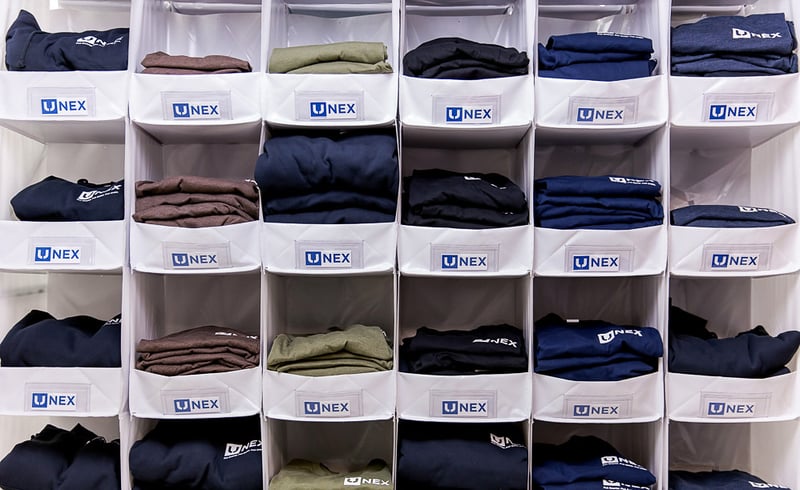 SpeedCell is a dynamic industrial shelving solution that dramatically increases storage density in warehousing, order fulfillment, and retail facilities. Unlike static shelving that stays fixed in place, dynamic shelving is moveable within storage racks. SpeedCell is unique in that it allows for maximum space utilization within a given bay of pallet rack. Converting static pallet rack storage into dynamic industrial shelving is simple with SpeedCell; now offered in 6 standard column sizes to make it even simpler to get started with this super, space-saving industrial shelving solution.
Learn everything you need to know about our new SpeedCell column size options, including full product features and specifications.
SpeedCell Column Sizes
SpeedCell dynamic high-density shelving consists of columns made up of individual storage "cells." These rugged columns are made from high-strength industrial textiles and are hung from a steel track suspension system using high-strength webbing for maximum durability - something that sets SpeedCell apart from its competitors. SpeedCell columns slide side to side on the steel track system within the rack, allowing complete access to the storage space, minimizing the shuffling of inventory, and maximizing the efficiency of each pick.
SpeedCell is offered in 6 standard column sizes ranging from XS to XXL and can be purchased with or without racking. Each cell can hold up to 35 lbs., and each column is rated at 240 lbs., making SpeedCell an extremely dense system that allows operations to gain significant increases in storage capacity.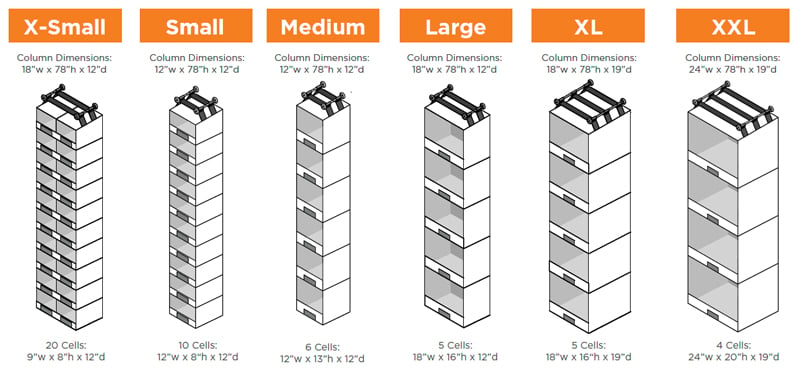 How to Choose Your SpeedCell Columns
When determining which SpeedCell column size(s) will work best for your unique needs, there are 2 main points to consider: product size and SKU velocity. Let's examine what you need to know about your product mix in order to choose the best SpeedCell columns for your applications.
Product Size
It may seem like a no-brainer, but it's worth mentioning that when it comes to choosing the right storage medium for your SKUs, size matters. It all boils down to how you can best utilize your space. For example, you wouldn't want to store a few tiny products in an XL bay of SpeedCell. Likewise, you should ensure you aren't overstuffing columns either. While each cell can hold up to 35 lbs., and each column is rated at 240 lbs. (regardless of size), you still want to avoid storing an oversized SKU in a too-small space.
After years of research and countless hours in the field studying operations across industries, UNEX product specialists and engineers have developed the 6 most common shelf sizes to accommodate a wide variety of SKUs. Whether you're storing small parts or cosmetics, or more oversized garments like sweatshirts and coats, there is a SpeedCell column that will work for your SKUs.
SKU Velocity
SKU velocity is the key to determining which storage mediums will best suit your inventory. The overall throughput of a facility should be top of mind for every fulfillment operation. Understanding whether you're storing thousands of different SKUs or thousands of the same SKU, combined with pick frequency, will be a determining factor for choosing the correct storage medium.
SpeedCell is ideal for your slowest-moving each picks. Slow-moving SKUs are a necessary evil in every operation. Ordered infrequently, they don't need a high-profile position in the warehouse, but they still need to be stored in an easily accessible location. Storing slow-movers in a high-density industrial shelving system like SpeedCell offers the maximum space utilization for storing this type of SKU.
When choosing SpeedCell columns, select the size that is no larger than what is needed to create the most densely packed bay possible. Unlike static shelving that creates a lot of wasted space, due to inaccessibility when stocking and picking products, SpeedCell utilizes every square inch of a bay. When workers are stocking and picking products, they always have full, step-in access to every column in the bay, making SpeedCell the most space-efficient choice when it comes to industrial shelving.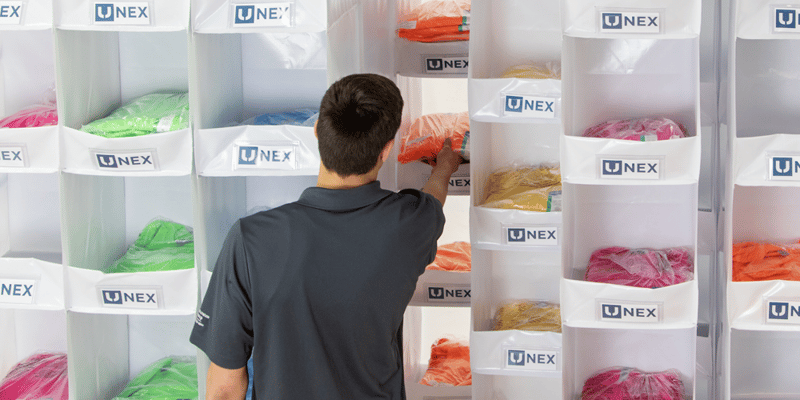 SpeedCell Features & Specifications
Maximize warehouse space, pick orders faster, and increase accuracy with SpeedCell. SpeedCell can compress 200' of rack or shelving into 40' of highly organized space. More pick facings and greater SKU density equates to less travel time and less seek time while pulling orders and restocking locations.
SpeedCell Features
Offered in 6 standard column sizes ranging from XS - XXL
Ergonomically designed
Operating temperature of -20° to 180°F (-29° to 82°C)
Resistant to: flame & mold
Storage Capacity:

Cell: Up to 35 lbs.
Column: Up to 240 lbs.
SpeedCell Column Specifications
Columns are hung from the suspension system using high-strength webbing for maximum durability.
SpeedCell material is 13 oz. no-fray vinyl with an interwoven mesh inside to give it superior strength.
Cell base is supported by 2000gsm corrugated plastic.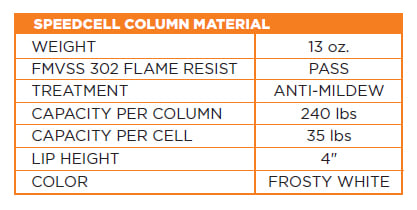 SpeedCell Steel Set
Every bay of SpeedCell comes with our patented steel track system that is manufactured from pre-galvanized steel. Columns are suspended from the steel track system that integrates into any type of pallet rack beams.
Configurable to fit nominal rack depths from 24"- 60" and widths from 48"- 144"
Suspended within selective rack or wide span rack system
Fits within any type of beam: box, structural, or step; pick modules and mezzanine
Wire decking cannot be placed over SpeedCell when structural-style support beams are used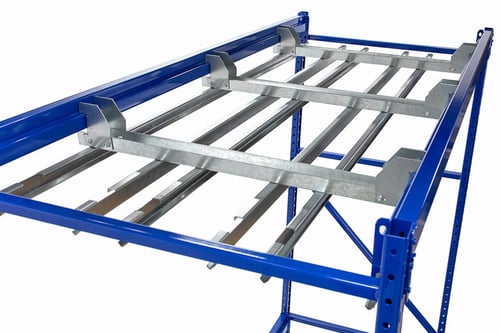 SpeedCell Modifications & Fully Custom Solutions
Modified standards can be provided to meet the requirements of your particular application. Any of our 6 standard-sized SpeedCell columns can be modified with different front and back styles as outlined below:
In addition to modifying our standard SpeedCell sizes, UNEX can also create completely custom-sized cells and columns. Connect with our product specialists to learn more about custom designs.
How to Order SpeedCell
UNEX offers full, free engineering support on all projects. So, rest assured, our team of experts can talk you through what you need in order to order the right SpeedCell columns for your bay. However, it's pretty simple to do-it-yourself! Here's what you need to know to design your SpeedCell bay:
Your bay width
Your bay depth
Your choice of column size
Your support beam type; step or structural
To make things even easier, you can use our SpeedCell product configurator! This tool gives you a 3D sandbox to test out a variety of designs. Whether you have existing pallet rack, or require new racking, UNEX has a SpeedCell solution that will meet your unique needs. Best of all, this is a completely FREE tool. Use it as many times as you'd like to get free drawings of your SpeedCell creations sent straight to your inbox. Try it today!
Get Started with SpeedCell
UNEX is pleased to offer a streamlined approach to selecting a dynamic high-density shelving system that will meet your unique needs. Offering the 6 most common shelf sizes makes getting started with SpeedCell even easier. If you have questions about SpeedCell, please contact our team of product experts. We will be happy to help you determine which column sizes will suit your needs.