Meet SpeedCell
Dynamic High-Density Industrial Shelving
Optimizing the footprint of a fulfillment operation - whether it's multiple warehouses, a fulfillment center, a retail backroom, or customer pickup areas - requires careful planning. Inventory organization plays a pivotal role in determining how best to maximize space in any facility. The primary way inventory is stored and organized across industries is with industrial shelving systems. Static storage solutions like pallet racking with wire deck or flat steel and rivet shelving are common storage mediums found in facilities large and small. While this may be the default or basic starting approach to storage, there are more advantageous ways to maximize throughput across fulfillment operations.
Meet SpeedCell: your dynamic high-density industrial shelving solution that is a powerful alternative to static shelving.
In this article, you will discover SpeedCell - what it is, who it's for, and the advantages of implementing this dynamic system.
What is SpeedCell?
SpeedCell is a dynamic industrial shelving solution that dramatically increases storage density in warehousing, order fulfillment, and retail facilities. Unlike static shelving that stays fixed in place, dynamic shelving is moveable within storage racks.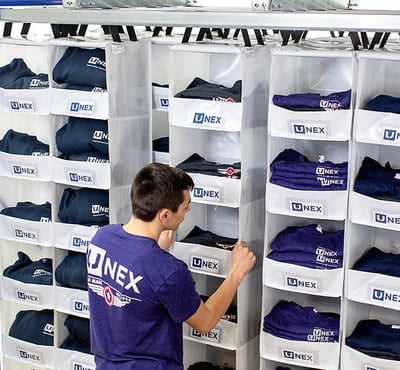 SpeedCell dynamic high-density shelving consists of columns made up of individual storage "cells." These rugged columns are made from high-strength industrial textiles and are hung from a steel track suspension system using high-strength webbing for maximum durability - something that sets SpeedCell apart from its competitors.
SpeedCell columns slide side to side on the steel track system within the rack, allowing complete access to the storage space, minimizing the shuffling of inventory, and maximizing the efficiency of each pick.

SpeedCell is offered in 6 standard column sizes ranging from XS to XXL and can be purchased with or without racking. Each cell can hold up to 35 lbs., and each column is rated at 240 lbs., making SpeedCell an extremely dense system that allows operations to gain significant increases in storage capacity.
Who Can Benefit from a SpeedCell System?
SpeedCell is ideal for each picking (also known as split-case picking) in warehousing, order fulfillment, and retail settings. This dynamic shelving solution can be found in a variety of facilities that store many different types of products. Some examples include:
Apparel and Footwear
Automotive Retail
Cannabis
Consumer Packaged Goods (CPGs)
Convenience Retail
Cosmetics
Electronics
Hardware
Pharmaceuticals
Toys and Hobbies
As eCommerce and omnichannel fulfillment operations expand and increase retail market share, each picking grows in use and scope. Any operation where each picking occurs can benefit from the use of SpeedCell somewhere in the facility - whether it's one bay or one thousand, depending on the unique needs of the operation.
When it comes to throughput, SpeedCell is well-suited for storing low-throughput SKUs or "slow-movers." We can't talk about SpeedCell without providing at least a crash course in throughput, so here it is…
What is Throughput and Why Should I Care?
Throughput is the rate of production or the speed at which something is processed. Across the supply chain, throughput refers to the number of units processed per time interval and typically quantifies the outbound operations within a facility.
So what are slow movers? They aren't the SKUs that make up the bulk of your operation (medium-movers) nor are they the SKUs that represent the bulk of your revenue stream (typically your fastest movers). Slow movers are the necessary evil SKUs that are purchased infrequently. Thus, they don't need a high-profile position in your facility, but they still need to be stored in an easily accessible location.
If you can reduce the storage footprint of your slowest-moving SKUs, you will gain back more space to store those medium and high-throughput SKUs that earn you the most money. Adding an extremely dense, highly accessible, and space-efficient solution like SpeedCell to the storage mediums in your facility - and doing it smartly by storing items according to throughput - will result in maximum ROI.
Learn more about throughput when you download our guide: Understanding Throughput for Fulfillment.
Top Companies Choose SpeedCell
Overton's
A leading retailer of apparel, water sports, marine, hunting, and boating accessories, Overton's, used SpeedCell to add thousands of SKU locations without expanding their warehouse footprint. SpeedCell helped Overton's increase efficiency across operations by 20-30% and increased their number of pick locations by 150%.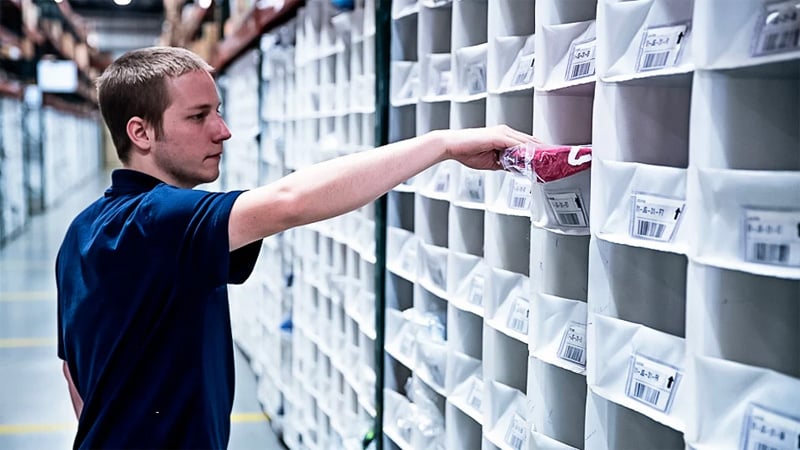 Discover many other benefits of implementing SpeedCell when you download the case study!
The SpeedCell Advantage
Whether you need to add more SKU storage within your existing footprint or are setting up an entirely new space, SpeedCell dynamic industrial shelving delivers unparalleled efficiencies for a wide range of businesses. SpeedCell can compress 200' of rack or shelving into 40' of highly organized space. More pick facings and greater SKU density equates to less travel time and less seek time while pulling orders and restocking locations. Unlike static shelving, SpeedCell can:
Transform space from dead and unusable to fully utilized and profitable
Improve storage density by 40 - 60%
Deliver a highly efficient and more accurate pick
Add dramatically more SKUs in less space
Reduce labor costs by up to 40%
Increase workplace ergonomics, reducing injury risk
SpeedCell boosts the profitability of entire storage facilities by creating extremely dense and highly organized storage space. Better SKU organization translates to increased pick speeds, which results in the aforementioned 40% reduction in labor costs.
SpeedCell dramatically improves pick facings, making it vastly more ergonomic and efficient for your team members to pick SKUs for order fulfillment. This means you can quickly improve the profitability of your operations without moving to a new space or buying entirely new equipment.
How Does SpeedCell Compare to Other Solutions?
SpeedCell high-density storage systems are a sweet spot between static and automated solutions. You can learn a lot more about how SpeedCell compares to other products by reading our in-depth article, UNEX SpeedCell vs. Other High-Density Storage Systems. To put it simply, static shelving cannot effectively use the full depth of existing pallet rack whereas SpeedCell can.
On the flip side, cost is another consideration when selecting the storage solution that works best for your operation. AS/RS or goods-to-person fulfillment solutions like vertical carousels are much more costly compared to a dynamic storage solution like SpeedCell.
SpeedCell can increase storage density in a given bay by up to 500%, making it an extremely attractive product for anyone looking to make a big impact on their bottom line without breaking the bank.
SpeedCell Key Features and Specifications
SpeedCell is offered in 6 standard sizes and can be purchased with or without racking. Our racks are manufactured with welded uprights and roll-formed crossbeams for a heavy-duty standalone structure. Pre-configured SpeedCell bays are easy to assemble and ready when facilities need them.
SpeedCell Columns
Operating temperature of -20° to 180°F (-29° to 82°C)
Resistant to flame and mold
Storage Capacity - cell: up to 35 lbs; column: up to 240 lbs
Columns are hung from the suspension system using high-strength webbing for maximum durability.
SpeedCell material is 13 oz. no-fray vinyl with an interwoven mesh inside to give it superior strength.
Cell base is supported by 2000gsm corrugated plastic.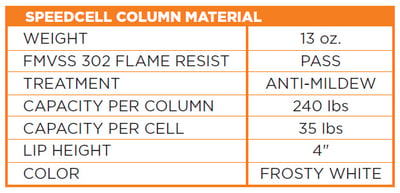 SpeedCell Steel Set
Configurable to fit nominal rack depths from 24"- 60" and widths from 48"- 144".
Suspended within selective rack or wide span rack system.
Fits within any type of beam: box, structural, or step; pick modules and mezzanine.
Wire decking cannot be placed over SpeedCell when using structural-style support beams.

SpeedCell Ready Bay Racking
Rack size: 96" high x 96" wide x 42" deep
Drop-in beam clips for fast installation and adjustability
Modular design for maximum flexibility, create standalone SpeedCell units or add units to create multiple bays of high-density storage.
Racks are manufactured with welded uprights and roll-formed crossbeams.
SpeedCell Options
Selecting the right column size is simple; product size will be the primary factor in determining which size best suits your unique needs. You can choose from our 6 standard sizes between X-Small and XXL.
SpeedCell Column Sizes
If you have existing pallet racking in your facility, you are ready to install SpeedCell! Each of our standard-size columns comes with the steel set suspension system and necessary hardware to install SpeedCell directly into any new or existing rack.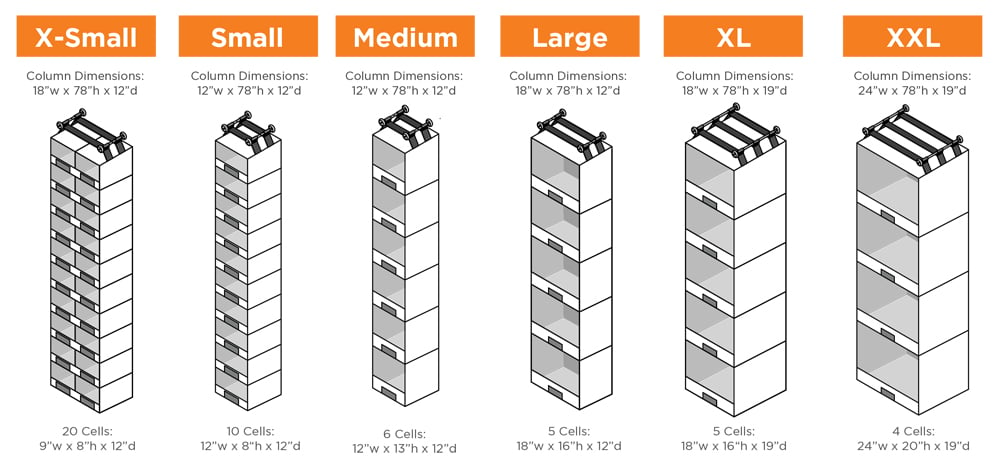 SpeedCell Ready Bay
If you don't have existing pallet racking or want to purchase new racking, UNEX offers SpeedCell Ready Bay. Ready Bay includes:
SpeedCell columns in your choice of size
Steel set suspension system (fully assembled)!
UNEX-supplied racking
Wire deck for extra storage space above your SpeedCell bay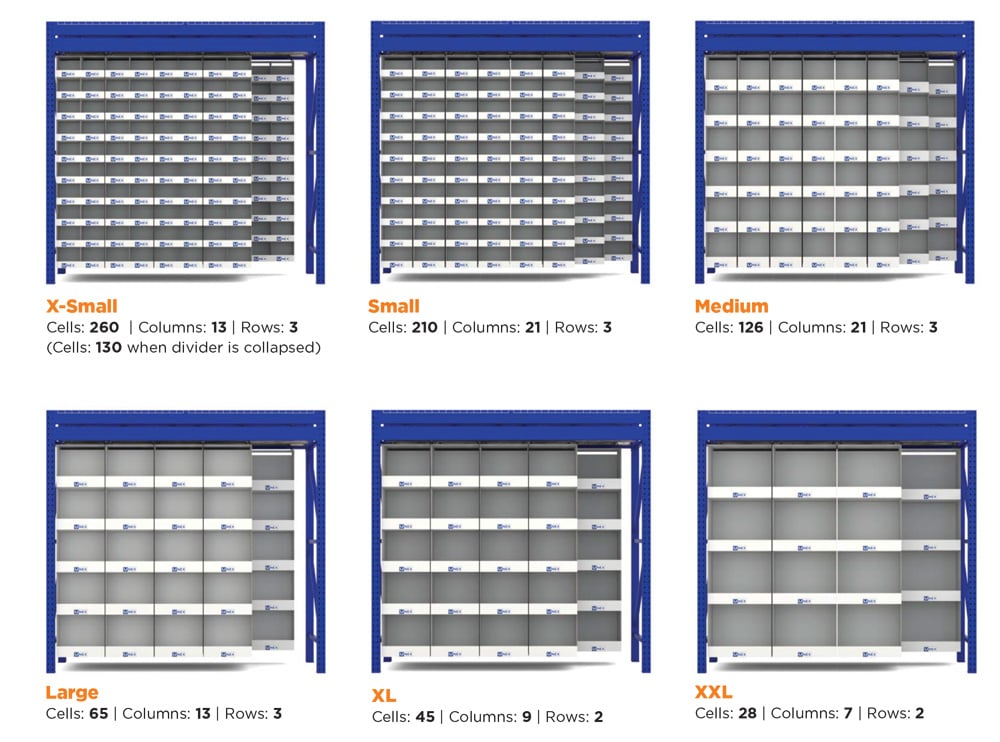 Ready Bay starter kits come with 2 uprights and 4 beams so you can set up a standalone SpeedCell bay. Ready Bay add-on kits come with 1 upright and 4 beams so you can create multiple bays of SpeedCell.
Let UNEX Help You Save Space with SpeedCell
Increase SKU density and improve space utilization in your operation when you upgrade your static shelving to SpeedCell dynamic high-density industrial shelving. UNEX offers total solutions for your storage needs, including free engineering support for your SpeedCell project. Contact us today to explore the possibilities for your operation!