The Importance of 5S Lean Manufacturing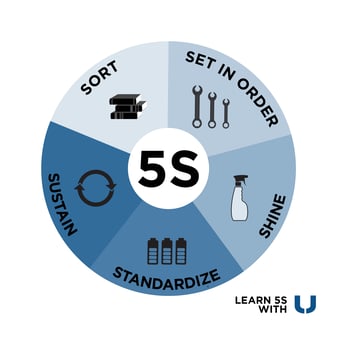 Many manufacturing facilities have opted to follow the path towards a 5S lean manufacturing system as part of a continuous improvement program or lean manufacturing process. The 5S system is part of Toyota's Lean Manufacturing methodology designed to reduce waste within your facility.
How Important Is 5S?
The 5S methodology1 is typically the first step towards in eliminating waste from manufacturing processes and eventually leads to improving bottom-line results. There are five pillars in 5S, which stand for: Sort, Set in Order, Shine, Standardize, and Sustain. The goal of a 5S program is to get products closer to operations and workers, organized and labeled to eliminate wasted time and materials.
The 5S philosophy is "a place for everything and everything in its place," is a mantra of UNEX. We help you find the right space optimization solution that eliminates wasted time, underutilized space, and lost inventory.
The result of a 5S lean manufacturing implementation is a significant reduction in space needed for existing operations. Workers improve their workspaces by cleaning and organizing them.
Tools and materials are labeled and stored in organized storage locations. Shelving and racks optimize the storage of items in a smaller footprint, helping to improve the order picking process by eliminating the need to search for things.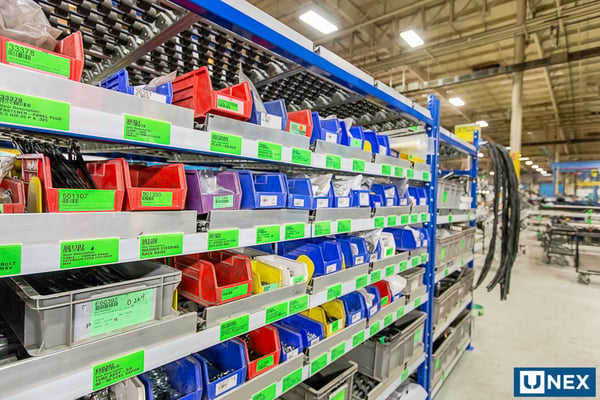 The 5 Pillars of 5S Lean Manufacturing
1. Sort
Remove all items not needed, leaving only the bare essentials. Sorting saves time, space, and labor costs while enhancing productivity.
2.

Set

in Order

Arrange items, so they are easy to use; label items so anyone can find them or put them back in the right location. Arranging eliminates wasted time from excess motion and searching.
3. Shine
Keep everything clean every day. Daily cleaning keeps things ready to be used when needed.
4. Standardize
Ensure conditions of work area do not return to the original, disorganized state.
5. Sustain
Make a habit of properly maintaining correct procedures to avoid backsliding.
Download The Lean Manufacturing Storage Guidebook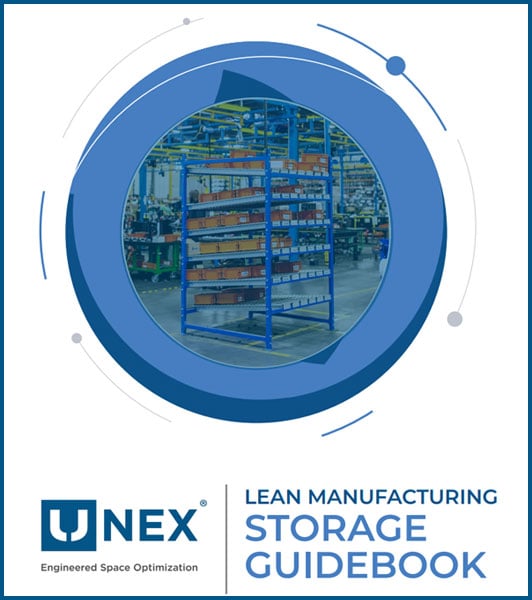 Implementing 5S Lean Manufacturing With UNEX
Implementing 5S raises product quality and improves worker productivity, resulting in lower costs and higher efficiencies. UNEX is laser-focused on helping clients improve their manufacturing processes with lean principles. Our 5S storage solutions, like Flow Cell, minimize waste while increasing efficiencies.
UNEX specializes in designing engineered space-saving solutions serving several industries, including distribution, logistics, retail, and manufacturing. To learn more about how UNEX can help implement 5S lean manufacturing, boost productivity, and eliminate waste within your operation, contact us or call us at 800-334-8639.
Flowcell Configurator
From flow-through workstations for assembly and order fulfillment to mobile carts and presentations racks, customize FlowCell modular flow racks to meet the specific needs of your operation.
---