An Economical and Agile Conveying Solution, Flexible Conveyors May Be a Valuable Addition to Your Operation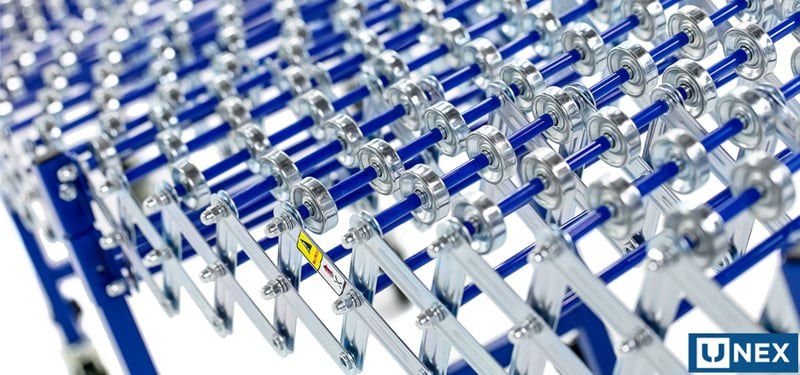 Increasing consumer demands have created a set of unique challenges across all areas of the supply chain. Many businesses whose strengths don't lie in logistics are migrating to third-party logistics providers (3PLs) as a way to shift work out to experts that specialize in this area of the supply chain. Companies have come to rely on these specialized logistics partners in order to compete with eCommerce giants like Amazon who have forever changed customers' expectations for how goods are purchased and delivered. Retailers are expanding omnichannel fulfillment options with more ways to buy online pick-up in-store (BOPIS) and a myriad of ship-from-store options.
All these shifts in how consumers purchase and receive goods require companies to get creative with production, SKU storage, order picking, shipping, and truck loading and unloading procedures. From the factory to the last mile, sensible space-saving and efficient storage and conveying solutions are critical components to ensuring orders are filled on time and customer needs are met.
Flexible conveyors can meet the needs of a variety of operations looking to quickly and easily move SKUs around their facility. Flexible conveyors are an agile, versatile, and cost-effective solution that is ideal for 3PLs, warehouses, and eCommerce fulfillment centers that experience a high volume of loading, unloading, and cross-docking. Applications for packaging, shipping and receiving, assembly, truck loading, unloading, and more can benefit from the use of flexible conveyors.
Understanding when, how, and where to implement and store flexible conveyors in your operation will allow you to determine whether this conveying solution is right for your unique needs.
When and How to Use Flexible Conveyors
There are several different instances where flexible conveyors can be deployed to increase efficiency and productivity in your operation. Doing so can ultimately lead to significant space, time, and cost savings. The following are common applications where flexible conveyors can be immensely beneficial:
1. Truck Loading and Unloading
In facilities where truck loading and unloading are a significant part of daily operations, implementing flexible conveyors can be game-changing. Flexible conveyors can be expanded and curved to serve multiple dock doors at once. Flexible conveyors can connect to the end of your main conveyor system and be extended into truck trailers to make truck loading and unloading more efficient. Because flexible conveyors can be stretched deeper into trucks as they are unloaded, workers are able to unload more efficiently with less reaching and walking.
2. Staging
Flexible conveyors can be implemented in shipping and receiving staging areas to offer additional capacity and an agile space to prep materials, products, or orders that are coming in or getting ready to go out the door. You can use flexible conveyors to stage orders that are ready to ship or picked up, and much more. Cartons can be sequenced by customer pickup time or shipping partner, for example, and when orders are complete, you can compress and store the flexible conveyor until it is needed again.
3. Establishing Temporary Lines
When demand increases, you may need to establish additional lines you typically do not need. Rather than investing in additional permanent conveying solutions that may otherwise be underutilized and take up precious space, implementing flexible conveyors can be a sensible solution. For seasonal businesses or facilities where occasional production is required, flexible conveyors can be expanded to quickly establish additional lines during peak periods when volume increases. They can then be condensed down when they are no longer needed.
Where to Store Flexible Conveyors
With the ability to compress to as little as 1'-9", flexible conveyors are ideal for storing out of the way when not in use. When flexible conveyors are compressed, they can easily be stored under an existing pallet rack or in another area of your facility that is used for storage.
Slide it underneath any existing permanent gravity conveyor or pallet rack.
Store out of the way in a storage area of your warehouse or fulfillment center when production, packaging, or fulfillment demands are not as high, then quickly re-establish lines as needs increase.
Casters allow flexible conveyors to be rolled just about anywhere with minimal effort and with no forklifts required.
Key Benefits of Using Flexible Conveyors
There are many benefits to investing in this flexible, low-cost, space-saving conveying solution. Flexible conveyors are designed for a variety of applications and are suitable for conveying multiple-sized boxes, cases, cartons, or totes.
Being able to establish lines quickly and only when they are needed is a major benefit to utilizing flexible conveyors in your operation. Deploying equipment only when it is needed allows you to re-purpose areas of your facility to ensure you are always maximizing your space.
Flexible conveyors also allow workers to spend less time climbing and reaching into trucks to move packages. This ultimately improves ergonomics which increases productivity and makes flexible conveyors an ideal solution for enhancing worker safety as well.
How UNEX Can Help Meet Your Flexible Conveyor Needs
The space optimization experts at UNEX can create a custom solution to meet your needs. Whether you're looking to supplement your existing conveyor lines or boost productivity at the dock doors, our team can consult you and walk you through the process of creating a flexible conveyor solution that works for you. UNEX Flex Wheel Series Gravity Conveyors come in a variety of standard configurations that meet the needs of most common applications.
Flex Wheel Series Gravity Conveyor Features
Options for rugged zinc plated steel or ABS plastic self-tracking skate wheels
Up to 200 lbs. per linear foot load capacity
Connect additional conveyors with hooks on one end and a combination box-stop/handle on the other end that folds down when not needed.
Galvanized telescopic legs can be adjusted to various heights without tools.
Create simple or compound curves with a minimum turning radius of 27".
Heavy-duty swivel casters with polyurethane wheels and locking brakes allow for easy mobility.
Available in two widths and six standard lengths.
A versatile and cost-effective solution that allows you to convey inventory into, out of, and around your facility with ease, flexible conveyors are designed to meet the conveying needs of your unique application.
If you're looking to learn more about UNEX Flex Wheel Series Gravity Conveyor, or if you have a question about how you can utilize flexible conveyors in your operation, get in touch with our space optimization experts. They will be happy to consult you on your conveying needs and determine a solution that works best for you.
Build a Made-to-Order Flexible Conveyor Solution in Minutes