Assembly Show 2021: In Review
Flow racks, workstations, lineside and heavy-duty racks, plus angled pick tray carts were highlights in booth 702!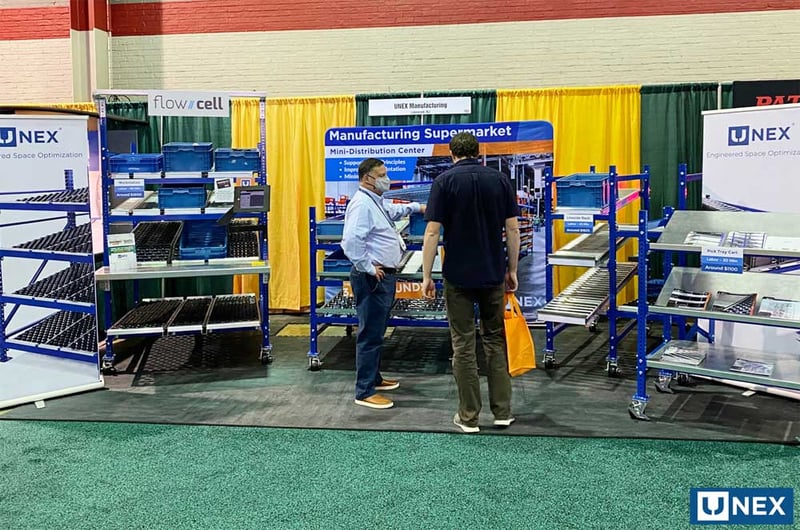 In a return to (somewhat) normal, UNEX showcased a variety of assembly solutions in booth 702 at the 2021 Assembly Show. Every year, hundreds of exhibitors and thousands of attendees visit the Assembly Show, produced by Assembly Magazine. Review what UNEX showcased at the 2021 Assembly Show to discover top solutions for applications such as lineside storage, assembly and sub-assembly stations, modular mobile carts, flow-through workstations, and supermarket areas. Plus, a one-of-a-kind online 3D product configurator that allows you to create your own assembly solutions, 100% free!
Lineside Storage Rack
This FlowCell lineside storage rack and others like it are ideal for feeding parts to assembly workers right where they are - the assembly line. These units ensure the exact right amount of parts are stored lineside where they are easily accessible for those working on the line. This helps increase overall space utilization in a facility and reduce WIP. Parts are often kept in a larger storage area of the facility called a "manufacturing supermarket."Workers retrieve specific parts and bring them to lineside storage racks to feed assembly line workers. This particular FlowCell featured a high-profile layback for the feed lane where workers can load totes or other objects from the back to flow to the front where lineside workers pick parts for assembly. Just beside the feed is a return lane that workers can use to return empty totes. This unit showcased both our SpanTrack Lane and SpanTrack Wheel Bed solutions to give attendees a feel for our primary carton flow track options.
Workstation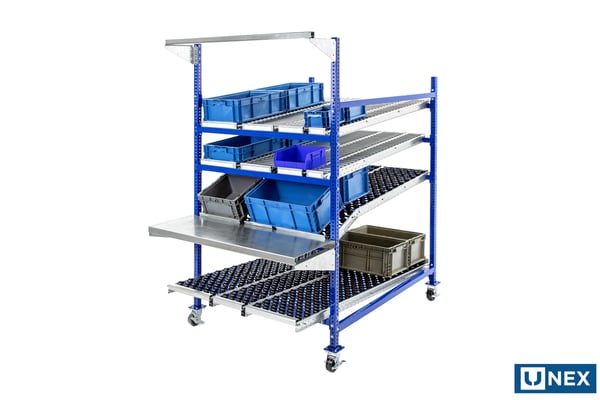 This industrial workstation showcased the full capabilities of our FlowCell product line - outfitted with varying widths of our SpanTrack Lane and SpanTrack Wheel Bed carton flow to showcase a wide range of flow options. The workstation allowed attendees to experience some of the different end treatments our SpanTrack product line has to offer - straight tracks, knuckled tracks that angle parts toward workers, and high-profile tracks for a return lane underneath, all of which support Lean principles. This unit featured classic workstation accessories like a workbench, an overhead toolbar, and casters to allow for ultimate mobility and flexibility.
Heavy-Duty Flow Rack
This heavy-duty flow rack featured our 100 Series SpanTrack rollers and heavy-duty skatewheels to showcase our full line of heavy-duty carton flow track options. Our 100 series carton flow rollers are made of galvanized steel with bearings, while our skatewheel is available in steel and each wheel has a bearing.
Pick Tray Cart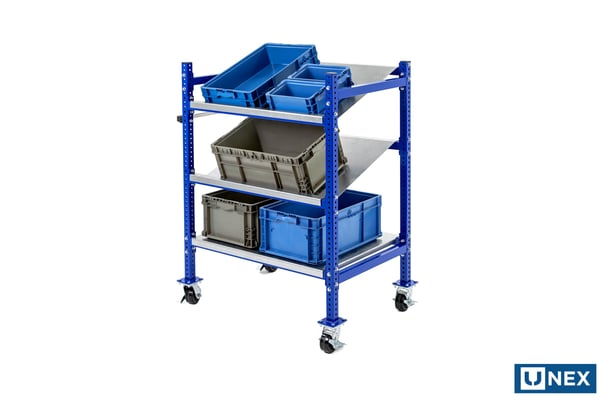 This industrial picking cart featured two levels of galvanized steel pick trays above one flat shelf below. The unit also featured handlebars, further increasing the mobility and flexibility of this FlowCell cart. Keeping small parts close to the line and readily accessible is a great use of the steel pick tray cart. Steel shelves are ideal for presenting parts for picking.
Supermarket Racks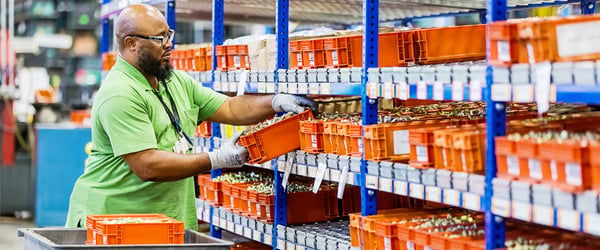 Not demo'd at The Assembly Show this year, but certainly worth an honorable mention were our supermarket racks! Our FlowCell and Roller Rack solutions are both ideal for creating space-conscious and efficient manufacturing supermarket areas. Mimicking the functionality of an actual retail supermarket, the manufacturing supermarket is a storage area within a facility where parts are stored and picked by workers to replenish smaller storage racks, modular carts, and/or workstations along the assembly line.
➡️ Roller Rack structures provide carton flow for the various storage mediums used in picking operations. Quick and easy to build, Roller Rack is ideal for manufacturing supermarkets due to its durable, flexible, and modular design.
➡️ FlowCell modular flow racks are proven to increase efficiency within high-volume operations by creating a seamless integration between the manufacturing supermarket and other areas of a facility.
Build Your Own Modular Flow Racks for Free!
Another highlight in booth 702 at The Assembly Show 2021 was our FlowCell Configurator demo stations! With our 3D sandbox environment, the FlowCell configurator allows you to create as many designs as you'd like. Our team of product experts can help you through the process, or you can go completely DIY! When you complete a configuration, we'll send you a free 3D drawing straight to your inbox so you can evaluate and repeat the process as many times as you'd like in order to tailor a number of solutions to meet your specific needs. Try our free FlowCell configurator today!