How to Build a Resilient Supply Chain for 2023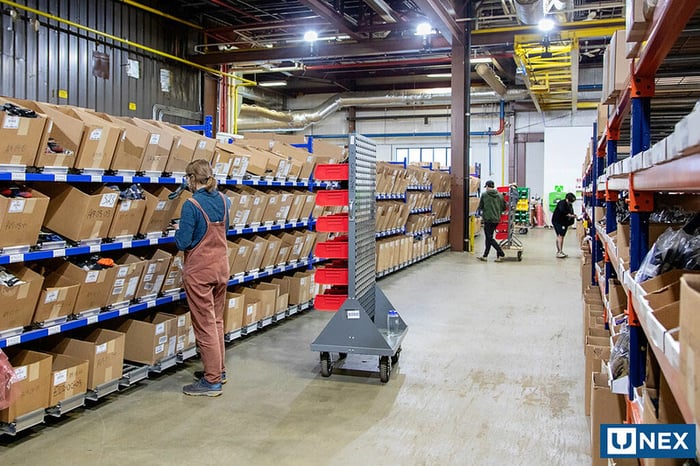 Supply chain disruptions are now the norm in fulfillment operations, and since the height of the pandemic, the industry has continued facing more challenges. These challenges are ever-present and show no signs of stopping any time soon. How can businesses combat these disruptions across fulfillment operations? Companies looking to stay on top of their game must build a resilient and diverse supply chain that can roll with the punches and be ready for anything in 2023.
Today's Top Supply Chain Challenges
To understand how to build a resilient supply chain, it's important to gain a deep understanding of the current landscape and the key disruptions businesses are facing. Let's take a closer look at the top challenges operations are dealing with and some insight into what can be done to create a more resilient supply chain.
Labor Shortages
Even with an increasing need for reliable labor, it is harder than ever to find and retain skilled workers. These shortages come from a variety of places, but burnout continues to be one of the biggest factors, especially since the pandemic. Combating worker burnout can be a challenge for businesses that are feeling the crunch themselves, but identifying weaknesses in onboarding methods, providing opportunities for growth, improving workplace safety, and opening lines of communication with workers can help.
Related Reading: How Dynamic Storage Solutions Can Help Combat Labor Challenges
Increased Consumer Expectations
With the rise of lightning-fast fulfillment services like Amazon Prime, consumer expectations have become more challenging for small producers to meet. Often this means that these businesses have had to expand their capacity through omnichannel fulfillment, which creates other challenges for the distribution centers that handle these products from multiple streams. Staying relevant isn't always easy. Thankfully, creating organized operations is easier than ever with new storage optimization methods that increase flow and better utilize space.
Increased eCommerce Demand
E-Commerce isn't new, but the demand for online products has spiked since the pandemic. Now, people not only purchase regular consumer goods online like electronics and clothes, but they're also buying groceries, cars, and other specialized products usually purchased in stores. Pivoting to meet these demands presents new challenges to the already burgeoning work environment. This is why efficiency is key. Learning how to properly manage expanding inventory and optimizing existing storage space will help you meet increasing demands.
Space Constraints
Space constraints were always an issue even before these other challenges presented themselves, but as inventory needs grow, so does the need to optimize your use of space. It's increasingly important that you work to improve storage capacity and SKU visibility to avoid excess inventory while also maintaining regular supply needs. Safety also comes into play here; as space decreases, so do ergonomics. Learning how to maximize warehouse storage without compromising workplace safety and ergonomics is crucial.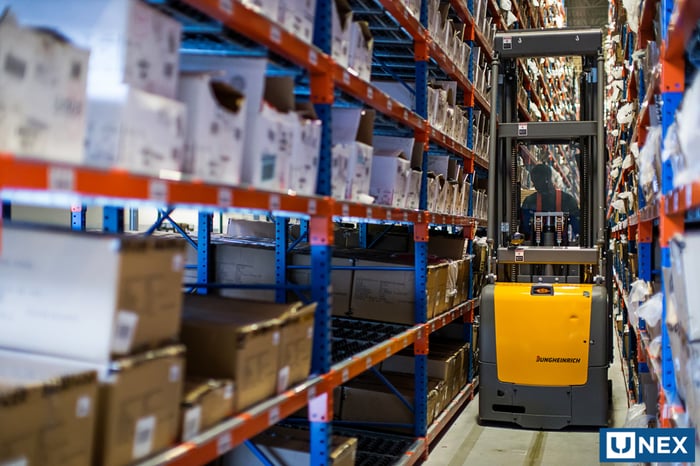 How to Build a Resilient Supply Chain with Dynamic Storage Solutions
Store Items According to Throughput
UNEX Manufacturing provides space-saving storage solutions meant to help supply chain operations address each of the aforementioned challenges. To combat these supply chain challenges into 2023 and beyond, start by learning more about your existing storage methods. Then, work to create better flow in your warehouse to maximize productivity. This means, organizing and storing your inventory according to SKU throughput.
By basing inventory organization on throughput, a wave of benefits will fall in line such as reduced pick paths which shorten travel time and save you money. Identifying and implementing the right-sized storage mediums for your product mix is crucial to avoid additional issues including injury, mispicks, worker fatigue, and excess inventory.
Better utilization of space allows for better product movement and visibility. One of the ways you can create better flow and space optimization is through dynamic storage. These storage mediums can ease the burden of labor shortages and boost productivity.
Improve Product Movement
Improving product movement will allow operations to focus on reducing excess inventory. Excess inventory was an expensive problem in 2022, impacting even big box stores like Target and Walmart. Needing to offload products by discounting inventory greatly decreased these companies' profit margins. Better utilizing space in your warehouse is one way to address this problem.
Think about these things as you work to optimize storage and flow in your facilities:
Increase your use of vertical space.
Establish clear stock routines and expectations to maximize SKU throughput.
Consider using carton flow options like SpanTrack to maximize space and improve order picking.
Select proper storage mediums for your SKUs.
Through the use of dynamic storage solutions, order fulfillment operations can focus on the other challenges facing productivity in their warehouse. Improving product movement by optimizing existing layouts helps with order fulfillment by reducing excess inventory, decreasing the number of product returns, and improving overall labor costs.
Smart Space Solutions that Transform the Supply Chain
With the new year just around the corner, UNEX wants to help you prepare for your most productive season yet! We know how challenging preparations can be, so we're here to support you. We offer a variety of dynamic storage and conveying solutions that will help you maximize space and streamline your order fulfillment operations. Contact us today to learn more!