Manual or automatic storage solutions. Which is better? It's a question that warehouse managers and order fulfillment center personnel are often facing. Especially as new technologies are developed to streamline different aspects of warehousing processes. While automatic technologies have their advantages, they also have their disadvantages when it comes to helping warehouses and distribution centers streamline processes.
Rather than taking a "manual or automatic" stance to optimizing space and boosting productivity, UNEX prefers to delve deeper into how manual solutions like carton flow storage or gravity conveyors can complement automated technology. Working in tandem with automated solutions, carton flow storage like SpanTrack provides a durable solution that enhances a warehouse's ability to reduce floor space, increase order accuracy, and more. While gravity conveyors are a form of "manual automation" that can move products while saving you time and money without the costs of a fully automated system.


How Dynamic Carton Flow Works With Automated Solutions:
1. Pick-to-Light
Pick-to-light involves a light-directed system that can be mounted throughout the warehouse such as on flow racks, shelving, pallet racks, etc to guide pickers and/or operators to the necessary products to fulfill an order. Using a pick-to-light system, companies have reported that they expect over 450 picks to be made per hour by each operator. This is approximately ten times the picks made by a warehouse operator using a paper-based system.
A comprehensive pick-to-light system would include hardware such as the light device, and alphanumeric bay displays. To put all the hardware to use, pick-to-light providers often provide a proprietary software that manages the light-directed system.1
Pick-to-light plays well with dynamic storage solutions because the hardware still needs to be attached to a durable, space-conscious storage system to do its job. For example, rapidly-growing meal subscription service, HelloFresh, installed UNEX FlowCell modular flow racks to increase the number of assembly lines in the facility from 18 to 28 and elevate productivity by 30%. In addition to saving space with flow racks and workstations, HelloFresh also implemented a pick-to-light system. This automated solution enabled its order pickers to scan barcodes and show them how many of each item they need to pick for each meal kit.

Gravity Conveyor is Free Automation:
2. "Manual Automation"
Skirting the line between a manual solution and automated is the ever-popular gravity conveyor solution. Rather than using electricity to move the belt, gravity conveyors rely on… well… gravity to move materials down the line. This provides operations with the benefits of motion (i.e. automatically moving SKUs from person to person) without relying on electricity. Basically free, energy-efficient automation comes without the cost or burden of connected technology. Durable and more cost effective than most purely automatic solutions, a gravity conveyor solution has less moving parts that wear down, require productivity-killing maintenance, and/or will break and cost you over time.
The benefits of gravity conveyors are only made better when installed alongside dynamic storage solutions such as gravity flow racks. Nobody knows that better than Capital Candy. Working with UNEX, Capital Candy installed a variety of dynamic storage solutions to help reorganize their facility and improve pick rates.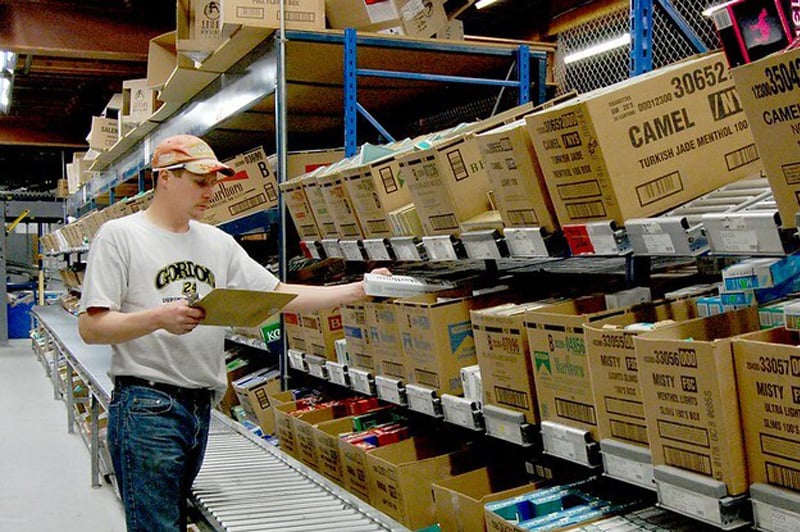 Shelf Track, Gravity Conveyor, Roller Rack, and SpanTrack systems joined forces to accommodate the unique handling requirements of Capital Candy's dairy line. Since implementing UNEX solutions, Capital Candy has gained several other benefits, such as improved pick rates and lowered labor costs with increased sales.


Related Reading: Gravity Conveyor solutions


Encourage Scalability with Manual and Automated Systems
Even though data indicates that 67% of larger, leading CPG companies are more likely to have put automation plans on hold due to the COVID-19 pandemic, the move towards automated warehouses is inevitable. Warehouses and fulfillment centers are always looking for the next best thing to help them shave seconds off their pick times and fulfillment rates. With IoT and warehouse automation top of mind, implementing automated storage solutions is becoming increasingly popular.
While automated order picking solutions have their operational benefits, they are not as scalable or cost effective as their manual counterparts. However, this doesn't mean that companies should disregard automation completely. Instead, companies should consider implementing both types of solutions to not only reap the benefits of increased productivity, but to also leave room for growth.
What do we mean? Well, automation IS scalable. But because it's technically complex, once the limitations of a solution are reached, expanding its capabilities can take further recalculating, or even a brand new solution altogether.
By fortifying warehouses with space-saving automation and manual systems, organizations are better equipped to scale and re-organize space to accommodate more SKUs and increased orders. For example, Aubuchon Hardware leveraged FlowCell, a gravity flow rack solution, to improve pick efficiencies for split case paint cans and keep aisles clear. Because these flow racks are customizable and modular, they can be built to the specs of a warehouse footprint and rearranged when the need to scale or pivot operations arises.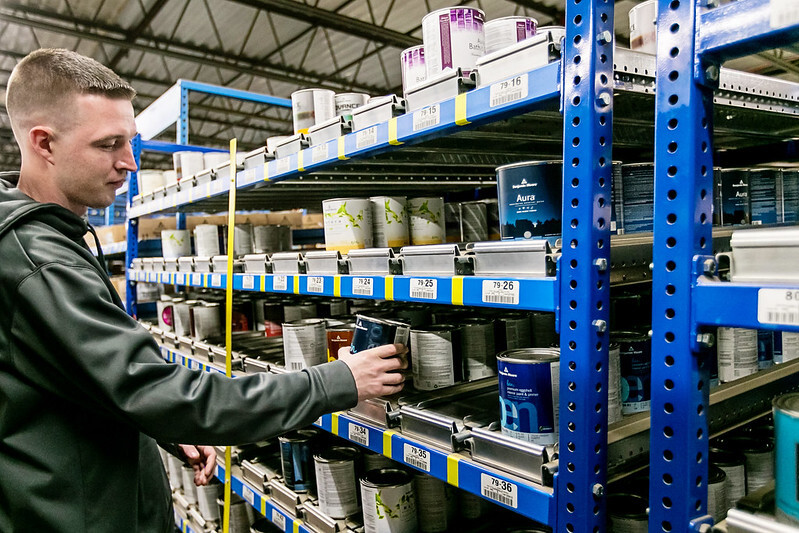 Even though automation has downsides, such as the lack of flexibility for quick pivots and seamless scaling, it's still important to consider phasing it into operations. But, rather than a total overhaul, consider using automation to enhance a manual picking operation, which is more easily scaled with business growth. As opposed to running a fully automatic picking operation, which can be more difficult to scale.
Looking to increase productivity and accuracy in your fulfillment center? Connect with a space optimization specialist to learn more about our warehouse storage solutions, or to request a quote.
---
Sources:
[1] https://www.thebalancesmb.com/pick-to-light-warehouse-systems-2221456