Industry-Leading FlowCell Configurator and Modular Flow Rack Solutions to be Demoed in Booth #702.
Lakewood, NJ – July 27, 2021 – UNEX Manufacturing, Inc., the trusted industry leader in providing smart space-saving solutions for the supply chain, will be showcasing their FlowCell Configurator along with FlowCell, Workstations, and various modular Flow Rack solutions in Booth #702 at The Assembly Show, October 26 – 28, 2021 in Rosemont, IL.
"The manufacturing industry, like many across the supply chain, has experienced a wave of disruptions due to the COVID-19 pandemic," said Brian C. Neuwirth, President, UNEX Manufacturing. "Now more than ever, companies need to be agile and ready for whatever the 'new normal' may be, and they need the right equipment and solutions in place to sustain growth through these unprecedented times."
Fortunately, there are solutions that can help mitigate the impacts of the top challenges manufacturers face today. "UNEX has helped numerous manufacturers and assembly operations to save money in maintenance and operational costs while saving space." In fact, 13 of the 17 companies chosen by Assembly Magazine as Assembly Plant of the year trust UNEX Flow Rack solutions to optimize space and increase efficiency in their facilities.
In Booth #702, UNEX Manufacturing will be showing visitors how UNEX can help facilities save money in maintenance and operations through a guided tour of their modular flow rack solutions. Beginning with a demonstration of their industry-leading FlowCell configurator, followed by demos of other essential assembly solutions like modular workstations, lineside storage units, and more.
What to Expect from UNEX at the 2021 Assembly Show
FlowCell Configurator
The FlowCell Configurator allows you to choose from countless options to build a FlowCell modular flow rack solution in a 3D sandbox environment. Start from scratch or choose from more popular configurations designed for specific applications.
Then, select your desired dimensions, track types, and accessories. After you've designed a FlowCell unit that meets your needs, you can fill out the information requested under "Send my design." You'll receive a FREE 3D drawing of your solution along with a bill of materials to help you get a jumpstart on your project.
FlowCell Workstations
FlowCell workstations are modular, dynamic storage units designed specifically for a facility's unique operation. The durable and flexible storage units support Lean Manufacturing principles by keeping inventory organized and maximizing pick efficiency.
Key applications include, but are not limited to:
Lineside Storage

Sub Assembly Stations

Material Handling Carts

Supermarket Areas
Pick Tray Carts, Mobile Units, Lineside Storage, and More!
UNEX FlowCell allows you to implement modular flow racks that are both flexible and ergonomic, organizing your inventory, accelerating pick productivity, and eliminating waste across your operation. FlowCell units are reconfigurable and adjustable for each unique application. Engineered to angle parts toward workers, FlowCell flow racks create clean, organized sightlines. Heavy gauge steel construction provides maximum durability - FlowCell can withstand even the harshest environments. Plus, assembling FlowCell units couldn't be easier. All FlowCell modular units start with a framework of vertical posts and horizontal beams, bolted together with 3/8" hardware (included), so only a 9/16" wrench is required to assemble your unit in under 1 hour.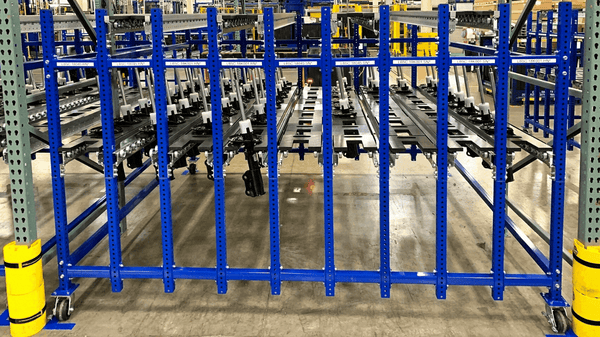 About UNEX Manufacturing, Inc.
Founded in 1964, UNEX is the trusted industry leader in engineered space optimization, offering solutions that increase efficiency, maximize existing warehouse space utilization, and ensure parts and products are more accessible for picking. UNEX offers a full range of space optimization solutions, including their patented carton flow solution SpanTrack, a full line of Gravity Conveyor products, and UNEX FlowCell for durable, modular, and portable storage in manufacturing operations. For retail order fulfillment efficiency, UNEX offers SpeedCell, dynamic, high-density storage. Using an extensive distribution channel, the company ensures local support is available for every customer - no matter the location - exceeding customer expectations through continuous improvement, customer service, and empowered employees. UNEX is an ISO-certified company committed to quality and bringing value to customers in manufacturing, distribution, logistics, and retail. For more information, visit www.unex.com.