Solution Spotlight: FlowCell Modular Flow Racks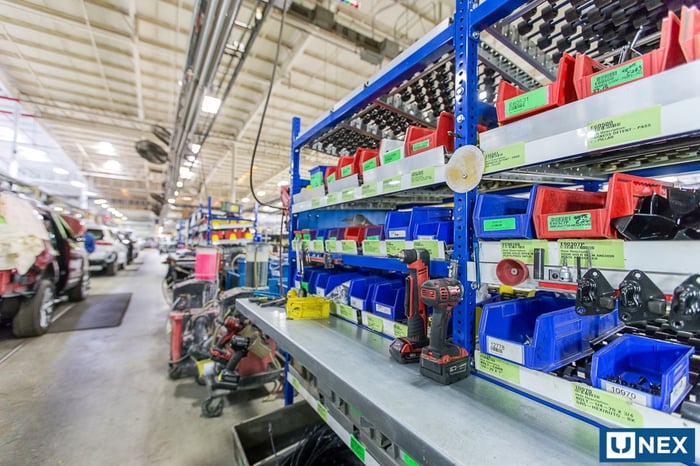 Creating an efficient, safe, and profitable operation is more critical than ever as maintenance and labor costs continue to rise. This, and reducing the compounding pressure placed on workforces has become a huge priority for manufacturing and distribution centers today.
Apart from rising costs, effectively utilizing space is another big challenge. Optimizing warehouse space and increasing space utilization on the manufacturing floor can be difficult. That's why UNEX has prioritized making our FlowCell modular flow racks an adaptable solution for businesses across the supply chain. Get to know FlowCell: a highly versatile, modular flow rack solution that can be configured to meet the needs of businesses across the supply chain from manufacturing and assembly to fulfillment, logistics, and retail.
Discover FlowCell Modular Flow Racks
UNEX FlowCell is a modular, dynamic storage system designed specifically for a facility's unique operation. These durable and flexible storage units support Lean principles by keeping inventory organized, accelerating productivity, eliminating waste, and maximizing space and picking efficiency. Let's explore some of the key benefits of implementing FlowCell systems.
Durable - FlowCell is 13 times stronger than the average tube and joint modular structure, supporting up to 1,000 pounds per level thanks to its heavy-gauge steel construction.
Customizable - Unlike other systems such as tube and joint, FlowCell posts and beams can be ordered in six-inch increments, from 12" to 96", which reduces maintenance costs.
Quick and Easy to Assemble- The average FlowCell configuration consists of about 30 total components compared to other systems which arrive in 133 pieces on average. An entire FlowCell structure can be assembled with a single 9/16" wrench in approximately one hour or less.
Facilities that implement FlowCell experience the following improvements:
Increase space utilization by up to 50% — inventory is organized and stored properly
Boost production efficiency up to 30% — parts angle toward the picker, making picking easy and fast
Minimize reaching and improve ergonomics by reducing injury and fatigue
Create reconfigurable, flexible storage to accommodate line and process changes
Ensure FIFO inventory rotation — replenishment from back does not interfere with process
Keep the factory floor organized — totes and boxes can be stored in return lanes rather than on the floor

Related Reading: How UNEX FlowCell Modular Storage Structures Reduce Maintenance Costs
FlowCell Specifications and Accessories
Due to the customizable nature of FlowCell flow racks, there is no shortage of what you can create! FlowCell's heavy gauge steel construction supports a variety of solutions such as industrial workstations, lineside storage units, packing stations, mobile units, presentation racks, heavy-duty racks, pick trays, supermarket racks, and more.
FlowCell Specifications
FlowCell posts: Vertical 1.75" square tube with .375" diameter hole punched 1" on center. 3' – 7' tall (6" increments standard).
FlowCell beams: Horizontal 1.75" square tube. 1' – 8' long (6" increments standard). Used for load beams and side beams.
Supports SpanTrack Carton Flow: SpanTrack Lane and SpanTrack Bed in light, standard, and heavy-duty capacities depending on your needs.
FlowCell Accessories
Use FlowCell accessories to create units with workbenches, pick trays, overhead tool bars, and more. Add casters to just about any unit to make it mobile. Popular FlowCell accessories include:
Workbench: Galvanized steel, 12" and 18" deep
Add-On Pick Tray: 30˚ angle. 12" and 15" deep
Overhead Tool Bar: For tools, lighting, and accessories
Casters: 4" diameter. Swivel or rigid (Includes side brake)
Pick Shelves: Galvanized steel, available in tilted and flat, up to 60" deep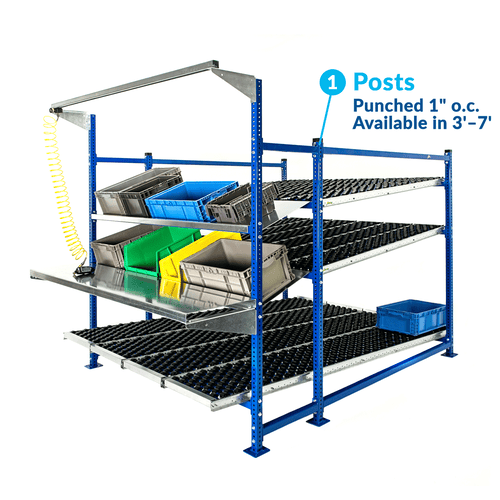 Boost Your Bottom Line with UNEX FlowCell
Whether you're struggling to implement lean practices, running out of space, or looking to optimize process flow, FlowCell flow racks are proven to boost production efficiency across all areas of the supply chain. It's no wonder the top assembly plants in the world choose UNEX modular flow racks to increase order and part picking efficiency, improve space utilization, and decrease costs.
To learn more about how FlowCell can make an impact in your facility, contact our team of manufacturing and warehousing experts today!