Dynamic Storage Solutions Buying Guide for Retail and Omnichannel Fulfillment
Finding smart space solutions for the unique challenges of your retail operations
Retail has seen tremendous growth recently, especially with online orders, and keeping up with increasing consumer demand is a constant challenge. There are many moving parts for retailers operating omnichannel fulfillment models, and remaining competitive in this quickly evolving environment means finding flexible, space-saving solutions that can scale with your business.
To help you discover the benefits of dynamic storage solutions and determine the equipment and systems that will work best for the unique needs of your operation, we've assembled this buying guide that tackles the most pressing challenges retailers face today and solutions to help solve them.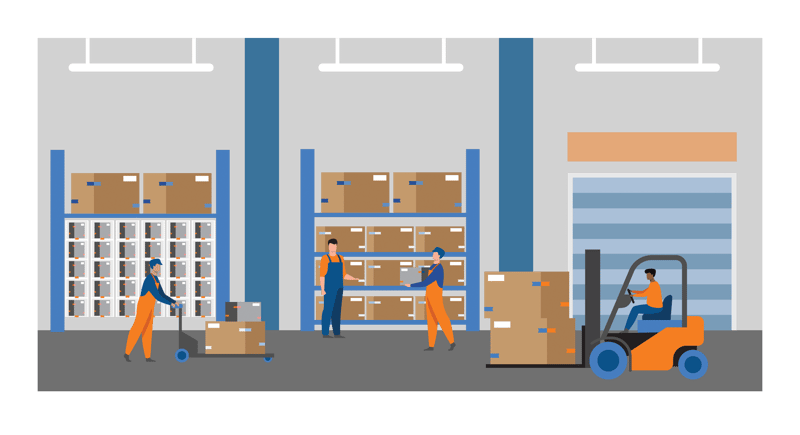 Omnichannel fulfillment efficiency challenges
Adapting retail operations to handle an influx of online orders while staying competitive across other order fulfillment channels is arguably the most significant challenge retailers face today. It can be a struggle to maximize the storage and throughput of a high volume of SKUs in often limited square footage; whether in your retail backroom, customer pickup areas, retail warehouses, or micro-fulfillment centers. No matter your situation, failure to maximize storage density while maintaining SKU accessibility and efficiency in your storage spaces can lead to significant inefficiencies across each of your fulfillment channels.
For managers of retail and omnichannel fulfillment operations, storage capacity and order processing issues are all too familiar. When numerous orders are delayed because of inefficiencies across fulfillment operations, profitability can be eroded and customer loyalty lost. And when retail storage spaces are stretched beyond their capacities, costs begin to rise due to factors like damaged storage equipment from overstuffing shelves and labor inefficiencies; both of which result in lowered throughput.
There's no question, inefficient use of retail order fulfillment spaces can drag down the performance of the entire business.
Solutions for increasing space utilization and efficiency in omnichannel fulfillment
To improve omnichannel fulfillment efficiency, identify the key aspects of your fulfillment processes that suffer from lack of access or storage density and equip those areas with dynamic storage solutions that can free up space, save time, and allow you to get more orders out the door.
UNEX provides engineered-to-order dynamic storage solutions that improve space utilization and make order picking, packing, and restocking a breeze for workers. These solutions for omnichannel fulfillment are suitable for optimizing space across every area of your operation, including:
Retail warehouses and fulfillment centers
Micro-fulfillment centers
Retail backrooms
Order picking, staging, packing, and restocking/returns
Customer pickup areas
Loading dock efficiency, truck loading and unloading
Plus, these solutions increase efficiency and space utilization across all of your eCommerce fulfillment channels to support a well-optimized last mile, whether customers choose options like buy-online-pickup-in-store (BOPIS), ship-from-store, or local delivery.
UNEX Solutions for Retail and Omnichannel Fulfillment
SpeedCell increases space utilization in your retail warehouse, backroom, or customer pickup areas. SpeedCell can compress 200' of basic pallet rack or industrial shelving into 40' of highly organized space, making it ideal for fitting more SKUs into your existing footprint and eliminating the need to expand the physical space required for your order fulfillment operations. If you're running out of space - wherever that space may be - SpeedCell is the perfect solution that can increase storage density up to 60%!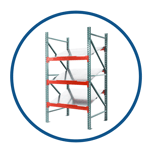 Pick Shelves provide clear SKU visibility and accessibility for workers fulfilling online orders in your warehouses and retail backrooms, as well as those restocking locations throughout your brick and mortar stores. Like many UNEX solutions, Pick Shelves drop directly into existing rack structures - they fit any beam style - making it easy to transform your basic flat shelves into tilted pick shelves to boost efficiency across your order picking processes.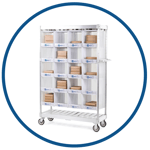 SpeedCartt is a mobile picking cart that speeds up the order fulfillment process and is ideal for order staging, picking, and restocking. SpeedCartt puts basic utility carts to shame with its increased pick facings that allow workers to fulfill multiple orders at the same time for maximum efficiency. Whether team members are picking orders in the warehouse or backroom, staging orders in your customer pickup areas, or restocking locations in the store, SpeedCartt helps speed up the process while keeping SKUs and orders organized.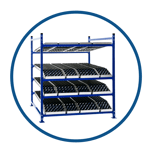 FlowCell flow racks and modular workstations can be tailored to suit just about any need; from SKU storage in your warehouse or backroom, to online order packaging, and staging orders in your customer pickup areas. FlowCell is a flexible, ergonomic solution that is extremely easy to assemble (under 1 hour!) and reassemble to create flow-through order fulfillment workstations, packing stations, flow racks for retail storage, and more.
Flex Wheel Series (FWS) Gravity Conveyor is a flexible conveyor solution that is ideal for truck loading and unloading and creating efficiency on your loading docks. Flexible conveyors expand and contract so they're there when you need them and not when you don't. FWS Gravity Conveyor optimizes flow and improves process efficiency for handling incoming deliveries at your retail locations or shipping/receiving in your warehouse and fulfillment centers. They are also ideal for staging orders for packaging as well as loading trucks fulfilling ship-from-store orders.
Tailor-made dynamic storage solutions that deliver omnichannel fulfillment success
When you have a unique scenario for SKU storage across your retail operations, or you just prefer to start your projects with some good old-fashioned DIY, UNEX enables you to custom-configure dynamic storage solutions. Build your own smart space solutions and receive free engineering support on all of your projects with UNEX. Design an engineered-to-order dynamic storage solution to meet your exact needs. Click here to try our free product configurators.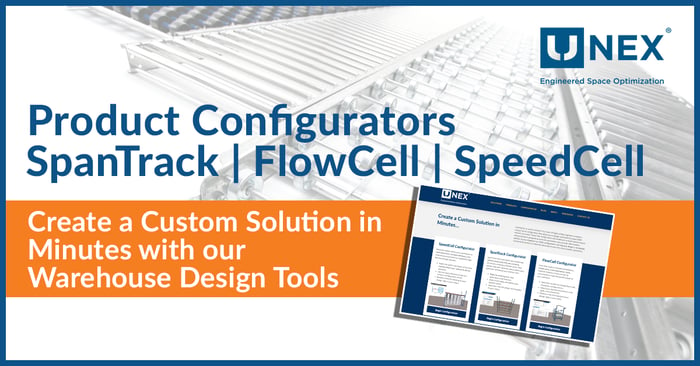 Download our quick guide to getting started with smart space solutions for retail and omnichannel fulfillment.
Related Reading:
3 Critical Questions to Ask Before Implementing In-Store and Ship-From-Store Logistics

Optimizing Retail Storage in Customer Pickup Areas
Managing Reverse Logistics in a Stressed Supply Chain
Best Practices to Optimize Fulfillment and Logistics for Last Mile Success