Dan is a Sales Development Representative at UNEX, which covers inside sales and customer service. His department supports the Regional Managers, distributors, and customers through all stages of projects. He's been with the company for 4 years.
Dan was born in Freehold, New Jersey, and raised at the Jersey Shore in Belmar. He attended Manasquan High School as well as The Academy of Finance and played football for all four years. Dan received a B.A. in Business Management with a Minor in Marketing from Moravian College in Bethlehem, PA. The background photo on Dan's computer is his dream sport fishing boat, a 92' Viking, and he's also a fine woodworker.

Hey Dan, thank you for taking a break from your busy day to answer a few questions. What is a typical workday like for you at UNEX?
Typically, I'll get into the office around 8am, have breakfast, and get organized for the day. The Inside Team generally does the majority of our work through email and phone communication. Most of my days are spent quoting and designing projects, working with distributors and customers to come up with solutions to their material handling needs. There are also days I'll be out in the factory testing products for customers or traveling to meet our distributors/customers with Regional Managers. The great thing about our department is the variety of projects I get to see and work on. We see most everything that comes through the company, and it is always interesting to see all the many ways our products and solutions can help customers.
How much is technical product knowledge necessary to be successful in our industry and in your job?
Many of our distributors depend on us to be the experts on Carton Flow, so I believe having the product knowledge as well as industry knowledge is extremely important. We need to know everything about our product to help our customers find solutions to the multitude of challenges they face in their day to day operations. My position supports our entire distributor network as well as our Regional Managers. I take pride in being somebody that can always assist with any type of application and solution needed.

What is your favorite thing about working at UNEX?
The culture and family atmosphere that we have here is awesome. Everybody at Unex is treated equally. I also enjoy the day-to-day challenge of starting a new project and creating a solution to help a customer improve their processes.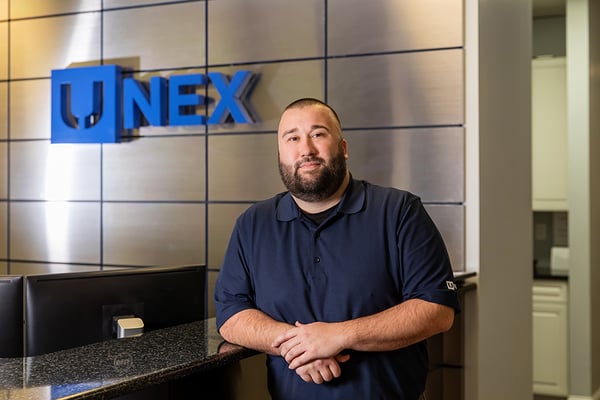 What is your spirit animal?
I have never really thought about this, but if I had to choose, I would say a Wolf. I generally walk my own path and don't depend on others to get me where I need to be. At the same time, I'm very sociable and loyal to those important to me. I also depend on intelligence as well as instincts to make decisions in my life.

What is your favorite pizza topping(s)?

This is a tough one for me, as I am a big fan of pizza. My go-to topping is pepperoni, but I also really enjoy chicken bacon ranch and buffalo chicken pizza. Really any pizza that does not have pineapples and ham is good with me.

Your favorite binge-worthy TV show?

The Office is probably one of my favorite shows of all time. I can watch it over and over again and never get sick of it.
Something that brings you joy?
I really enjoy fishing in my spare time. I have grown up on the water and have been fishing since I was a child. Being out on my boat with friends, good music, and a couple beers is always a great time.
Tell us one thing you hope to accomplish in 2020?
One of the main goals I have set for myself is to buy my first home by the end of 2020. I also want to continue growing in my profession so that I can contribute as much as I can to the company.
Thanks again for the interview, Dan. We hope you catch a few big ones this year and buy your first home!
UNEX specializes in designing high-quality, engineered space-saving solutions, serving several industries, including distribution, logistics, retail,

and manufacturing. To learn more about how UNEX can help your business increase efficiency and optimize storage space within your operation,

click

here to contact us or call us at

800-334-8639

.