Flow Racks: The Best Productivity Booster You May Not Be Using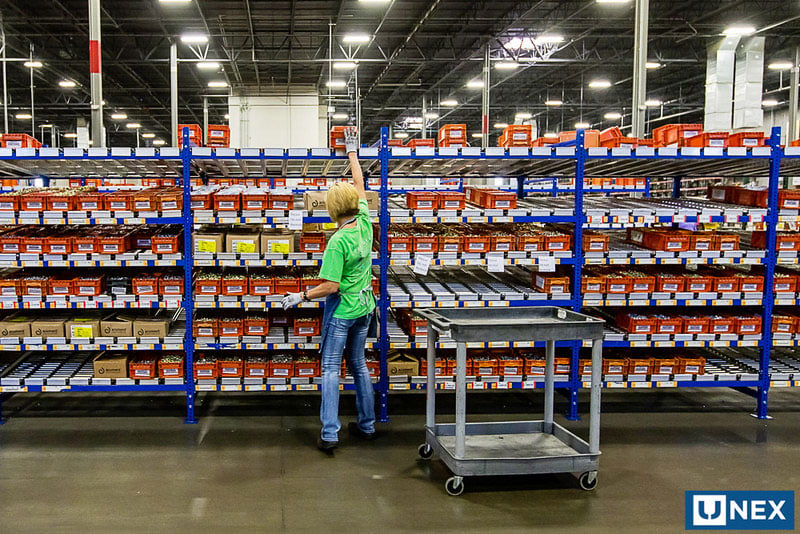 Flow racks are one of the most powerful tools for optimizing, modernizing, and streamlining essential tasks like order picking, part picking and inventory management.
Companies that have taken advantage of flow racks have enjoyed higher manufacturing productivity, effortless part and package organization, and an all-around smoother production process in the face of an unprecedentedly challenging supply chain.
Meanwhile, their competitors that have yet to get hip to the power of flow racks have been left scratching their heads and wondering what they can do to get their productivity and profitability back on track.
We're here to level the playing field by answering all your most pressing questions about flow racks: what they are, how they work, who can use them, and most importantly, how they help your organization cut expenses, boost efficiency, and capture more revenue. Let's get to it, shall we?
What are flow racks?
Flow racks are as easy to understand as they are to operate. Flow racks are dynamic, gravity-fed systems (kind of like a slide!) that optimize pick and production efficiency, as well as manufacturing and warehouse storage.
The modern design of a flow rack system solves all the common issues traditional static shelving systems create. Flow racks minimize "storage sprawl" and support intuitive, ergonomic, and efficient storage, organization, and picking processes for manufacturers, retailers, and fulfillment operations.
How do flow racks work?
Flow racks are wheel-based conveyor systems that use the power of gravity to make essential manufacturing and warehousing tasks quicker, easier, and cheaper than static systems allow.
Flow racks trade in hard-to-reach shelving for conveniently angled and accessible racks, allowing parts and products to flow smoothly toward your pick points. This constant carton replenishment automatically reduces travel time and boosts pick speeds, enhancing the efficiency of your operators without increasing their workload.
Whether you need to streamline carton flow, improve operator efficiency, or ensure first-in, first-out (FIFO) stock rotation, flow racks' space, time, and resource-saving nature make them an ideal fit for any facility.
Where are flow racks used?
Flow racks can essentially be found in any business that relies on speed, organization, and maximum efficiency to drive success.
Flow racks are primarily found in manufacturing, fulfillment warehouses, third-party logistics (3PL) warehouses, and retail settings, but can also be leveraged in everyday environments like grocery stores, auto shops, and fast food restaurants.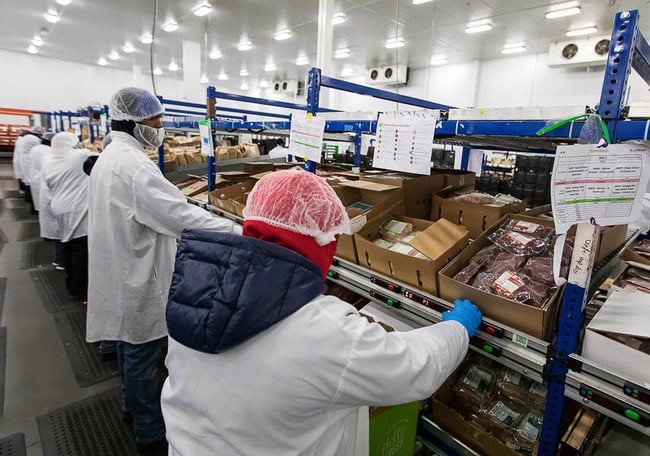 What are the advantages of using flow racks?
Flow racks, also known as gravity flow racks, pack a potent one-two punch by significantly increasing your inventory capacity while optimizing your part or order picking processes. Let's look at three of flow racks' most appealing advantages.
Optimize Your Space
Flow racks' space-saving design empowers manufacturing, retail, and fulfillment operations to increase their space utilization by up to 50% - without expanding the existing footprint of their storage areas. Flow racks also support parts and SKU density 7x higher than traditional pallet storage systems, reducing travel time in your facility by as much as 80%.
Create Custom Solutions
Another significant benefit of flow racks is their modular design. Flow racks' can be easily customized to solve your most complex and challenging production tasks thanks to their easy installation process and flexible design. You can use a single flow rack to create a standalone unit that maximizes carton flow in crucial loading areas or combine racks to develop custom, reconfigurable flow bays that support smooth, successful line and process changes.
Related Reading: Build Your Own Flow Racks with a Free Flow Rack Design Tool
Enjoy Enhanced Ergonomics
Flow racks take advantage of simple physics to improve operator ergonomics significantly. Flow racks' gravity-powered conveyor systems minimize reaching, bending, lifting, and carrying, allowing workers to increase their pick and production speed while reducing fatigue and inefficient or wasted movements.
Flow racks also support convenient access and visibility to every part or SKU in the unit, unlike static shelves and pallets with fixed, inefficient points of pick. Flow racks - well, flow - products forward, saving workers valuable time and energy wasted searching and retrieving materials stored out of reach in the back of static systems.
Who can benefit from flow racks?
Flow racks are valuable assets for a wide variety of organizations. Just about anyone with a warehouse can benefit from implementing flow racks, but a few key industries include manufacturing, retail, fulfillment, and logistics. Facilities in these sectors especially benefit from the time, energy, and effort-saving advantages flow racks create.
Flow racks are also great storage upgrades for businesses that manufacture, assemble, or sell cumbersome products that can be difficult or dangerous for employees to repetitively lift and carry. Flow racks' gravity-fed design makes stocking, sorting, and retrieving inventory an ergonomically sound process that reduces operator fatigue and minimizes injuries.
UNEX Flow Racks
Our cutting-edge flow racks help our partners transform expensive, inefficient manufacturing and distribution tasks into smooth, streamlined processes that support steady growth.
Our dynamic, modular flow rack systems install quickly and start impacting the efficiency of your pick speed and inventory control from day one. UNEX flow also support lean principles, making them the ideal solution for businesses looking to increase efficiency and worker comfort and safety through ergonomics.
Releated Reading: Lean Manufacturing Storage Guidebook
FlowCell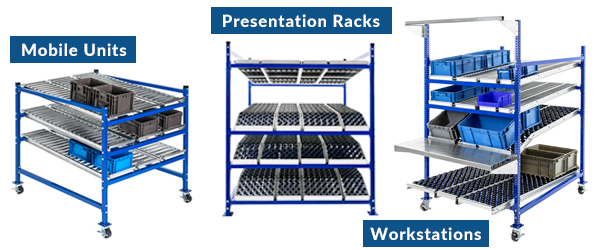 UNEX FlowCell is a modular flow rack system designed to increase space utilization and enhance production efficiency for lineside storage, modular mobile picking carts, packing stations, industrial workstations, as well as warehouse storage, and more.
Angled carton flow tracks (UNEX SpanTrack) push inventory toward your operators, reducing travel time, fatigue, and injuries. The ability to replenish stock from the back of our FlowCell units without interrupting picking or assembly processes underway at the front is another key advantage that streamlines operations and boosts productivity.
Whether you're in need of a mobile flow rack, a workstation, or flow rack shelving, FlowCell's modular design provides the flexibility you need to easily reconfigure your flow racking as business needs change.
Click here to explore FlowCell.
Roller Rack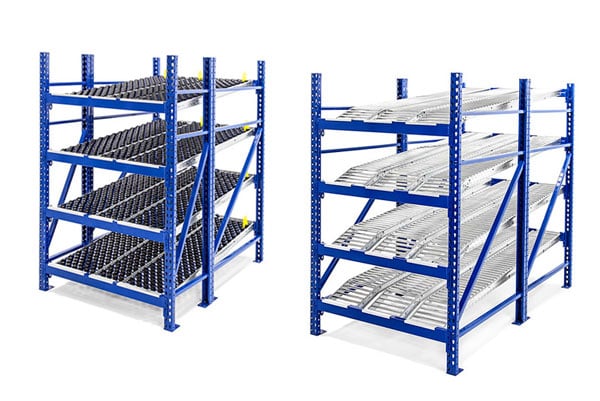 Our easy-to-implement Roller Rack system optimizes carton flow, making manufacturing and assembly or fulfillment storage more organized, efficient, and cost-effective.
Roller Rack streamlines carton flow by instantly replacing boxes and totes as they're organized and picked, eliminating time-and-energy-draining inventory search and rescues that bog down your team. Instead of picking through overpacked pallets and stuffed static shelves, your operators will automatically have access to the next item they need.
Roller Rack can be used to create standalone carton flow or several connected bays to create warehouse storage areas. One of the most common applications for UNEX Roller Rack is manufacturing supermarkets. Our pre-engineered rack and track structures are ideal for operations where carton flow is required and there is no need to store pallets above the rack.
Click here to explore Roller Rack.
You just passed Flow Racks 101. Well done!
If you're ready to say "so long!" to static storage systems that drive down productivity and pick speed, you're in luck. We've helped retail, manufacturing, and distribution organizations worldwide take their efficiency - and revenue - to new heights. Contact us today.