FlowCell Flow Racks for Automotive Manufacturing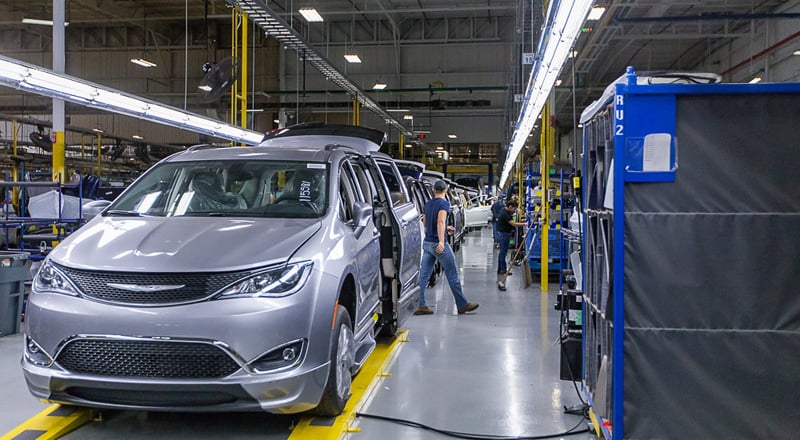 The United States Midwest is the original birthplace of the American automotive manufacturing environment; starting with the Big 3 in and around the Detroit metro area with General Motors, Ford, and Chrysler (now Stellantis). Not only are these automotive powerhouses still headquartered in Detroit, but many of their assembly and component manufacturing plants are located in Michigan and the surrounding states of Indiana, Ohio, Illinois, Missouri, and Kansas. Because of this, you will also find numerous manufacturers in the Midwest who supply these companies with components, known as Tier 1, 2, and 3 suppliers.
Due to the resources and knowledge base across this region, the last few decades have seen foreign (mostly Japanese) owned automotive companies opening facilities in the Midwest, such as Toyota, Honda, and Subaru. These companies have also spurred the growth of component manufacturers and suppliers near their respective facilities. While the Southeast U.S. has seen tremendous growth in automotive manufacturing, with the likes of Nissan, BMW, Volkswagen, Volvo, Kia, Hyundai, Toyota, GM, and Ford exploding on the scene, the Midwest still reigns supreme as the leader in this space.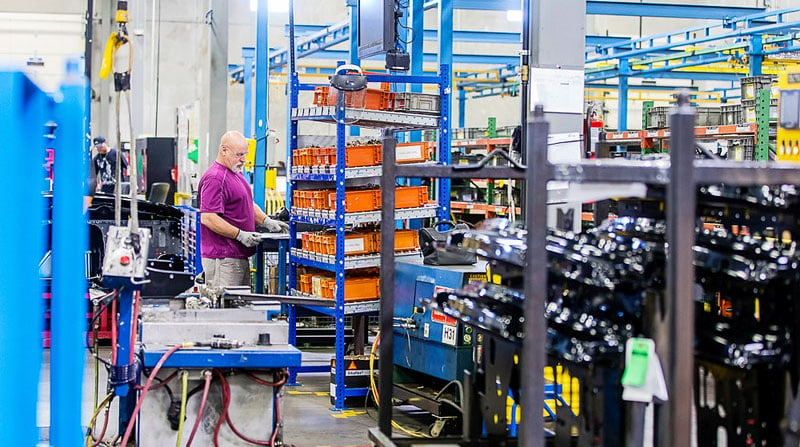 In this article, we will explore the unique challenges automotive manufacturers face when it comes to storage and material flow and how to solve them. We'll also hear from a product expert whose area of expertise lies in helping auto manufacturers maximize space utilization and increase production efficiency in their facilities.
Automotive Manufacturing Challenges
When it comes to storage and material flow, every manufacturing environment has its own unique challenges. However, there are certainly some common themes that are especially prominent in the automotive manufacturing space. Perhaps the biggest challenge auto manufacturers face is finding the most efficient way to get parts and components to assembly and subassembly lines. How do you supply the line with enough parts (but not too many) and just in time to keep the assembly line moving? All while doing this in as few steps as possible? These are the questions auto manufacturers need to answer.
There are multiple ways to attack this ever-present issue, and although each company has its own set of processes and procedures honed over the years with trial and error, the most successful companies are constantly testing and changing to make incremental improvements and increase efficiency. This practice is commonly referred to as continuous improvement or "Kaizen." Kaizen is the process of making small incremental changes that add up to significant results based on deliberate observation of current processes.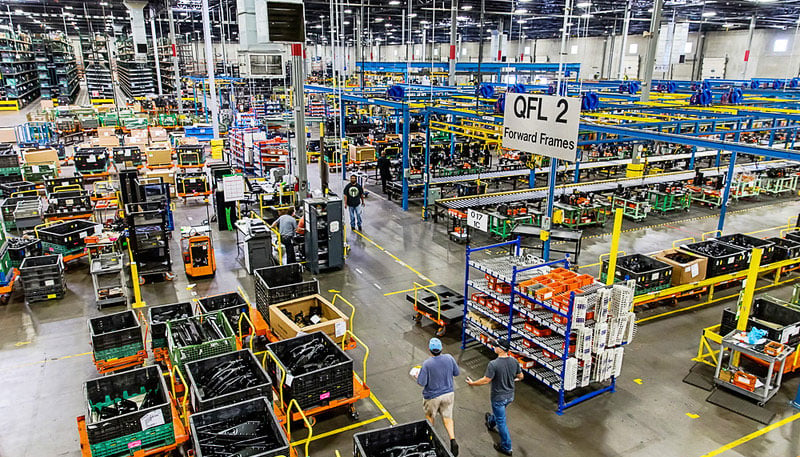 Another challenge that is unique to auto manufacturing has to do with the storage of parts that feed these assembly lines in what are known as manufacturing supermarkets. A manufacturing supermarket mimics the functionality of a retail supermarket. Factory workers pull components from shelves as needed for manufacturing, similar to how shoppers pull products from grocery store shelves. Manufacturing supermarkets reduce transportation costs, make tracking inventory levels and identifying potential shortages easier, improve efficiency, and are often part of Lean manufacturing systems.
How to store and how much to store are two common questions manufacturers need to answer in order to be as efficient as possible. Also, which location in the plant will be most conducive to storing these parts and components until they are ready to be used?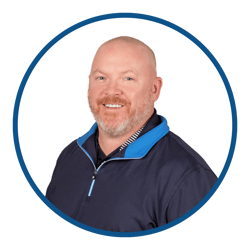 That's a lot of questions! But thankfully, our Central East Regional Sales Manager, Ryan McKinney, has answers. Ryan has over a decade of experience consulting automotive manufacturers on the very issues we've highlighted here. Ryan has played an integral role in helping many facilities navigate these struggles and tackle them head-on using smart, flexible, space-saving solutions like UNEX FlowCell flow racks. Let's hear from the expert!
FlowCell Flow Racks Pack a Punch for Automotive Manufacturers
Get to know FlowCell: A modular flow rack solution that is widely used in facilities across the supply chain, but has been particularly beneficial in manufacturing and assembly environments. Ryan has played an integral role in hundreds of projects in some of the biggest auto manufacturing plants in the world, and he can say with confidence that FlowCell is a top choice among these plants.
"FlowCell is certainly one of the leading solutions automotive manufacturers have come to rely on for their flow rack needs. FlowCell's modular and durable design makes it a great choice for busy auto manufacturing plants looking to increase efficiency across key areas of their operations."
FlowCell can be used to create just about any solution you can dream up, but some of the most common configurations in the auto manufacturing space include: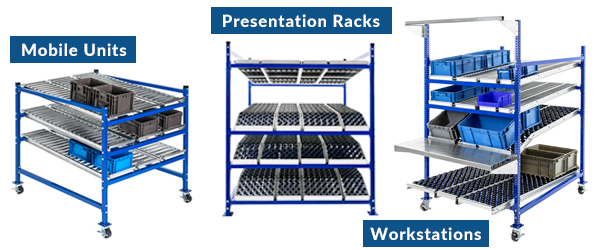 We asked Ryan to give us his take on the top 3 FlowCell features that make these flow racks a home run for automotive manufacturing. Here's his roundup:
1: Heavy-duty, Rugged Construction
FlowCell flow racks are rugged enough to withstand even the harshest conditions, making them a fantastic fit for demanding manufacturing environments. FlowCell also has a high weight capacity, so you can feel free to load these units with heavy automotive parts and components.
2: Modularity
Perhaps one of the best features, FlowCell is a modular solution that can adapt and change as the needs of the plant change. Their reconfigurable and adjustable nature makes them versatile equipment that can quickly scale up or down to meet demand.
3: Storage Density and Seamless Flow
When paired with UNEX SpanTrack carton flow, FlowCell creates highly efficient, dense storage and gravity flow to pick areas. Pick a box or tote and the next one flows to the front, creating super seamless FIFO (first-in-first-out) picking. There are also a variety of options for different flow types, different ways to present parts to operators/pickers, and different accessories that can be added to FlowCell units to make employees' jobs easier and more efficient.
Those are some amazing benefits! Manufacturers nationwide agree; rugged, reliable, modular solutions that provide storage density and seamless flow are what make facilities successful.
Thanks for the insight, Ryan!
Connect with Ryan on LinkedIn to stay up-to-date on the latest manufacturing and assembly trends and solutions!
FlowCell Features and Benefits
FlowCell provides a flexible, ergonomic solution that supports Lean principles. Modular flow racks organize your inventory, accelerate pick productivity, and eliminate waste.
FlowCell Benefits
Increase space utilization by up to 50%
Boost production efficiency by up to 30%
Minimize reaching and improve ergonomics by reducing injury and fatigue
Create reconfigurable, flexible storage to accommodate line and process changes
Ensure FIFO inventory rotation
Keep the factory floor organized — totes and boxes can be stored in return lanes rather than on the floor
FlowCell Key Features
Reconfigurable, adjustable units for each unique operation
Clean, organized sightlines
Engineered to angle parts toward the picker
Heavy gauge steel construction
Quick assembly (under 1 hour)

Top Companies Choose UNEX FlowCell Flow Racks
UNEX FlowCell is used for lineside racking in major auto manufacturing facilities like Ford, GM, Toyota, Honda, and the list goes on. Many of these facilities also leverage UNEX SpanTrack carton flow in their warehouses and supermarket areas. Many of their supplier manufacturers also use UNEX solutions in their manufacturing and storage processes. Companies like Bosch, Bridgestone, Johnson Controls, Honeywell, and more all choose UNEX solutions to keep processes and profits flowing.
Take BraunAbility for example; they transform thousands of vans, SUVs, and taxis into handicapped-accessible vehicles every year. When BraunAbility needed to increase productivity and space utilization, they turned to UNEX FlowCell flow racks. In this fast-paced facility, FlowCell replaced clunky pipe and joint structures with flexible modular and portable workstations for the company's ever-expanding lineside and sub-assembly operations.
Download The BraunAbility Case Study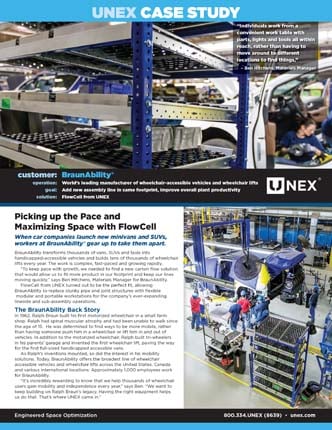 FlowCell may be a perfect fit for automotive manufacturing, but you can also find our solutions in many other manufacturing facilities across companies like John Deere, Boeing, General Electric, Sherwin Williams, Whirlpool, and Panasonic to name some more.
Furthermore, since 2004 Assembly Magazine has awarded "Top Plant of the Year", showcasing American manufacturing facilities that have reduced production costs, increased productivity, shortened time to market, and improved product quality. UNEX solutions are in many of these plants! There's a reason why winning companies choose UNEX FlowCell.
Connect with a UNEX Flow Rack Expert
FlowCell flow racks bring a lot to the table, especially for those in the automotive manufacturing space. Whether you're running an auto manufacturing plant or any type of manufacturing or assembly environment, FlowCell flow racks provide a plethora of benefits to increase production efficiency across facilities.
If you're wondering how to get started with FlowCell, our team of experts like Ryan can work with our distributor partners local to your area to develop a complete solution for your business. Our combined years of experience with partners across the country will help you design modular flow racks to meet your needs. Plus, we offer free engineering support on all our projects to ensure your UNEX solutions are tailored specifically to your unique situation. Contact us today to get started on your next project!