Introducing NEW SpeedCell Ready Bay
Pre-configured dynamic high-density industrial shelving that's ready in minutes.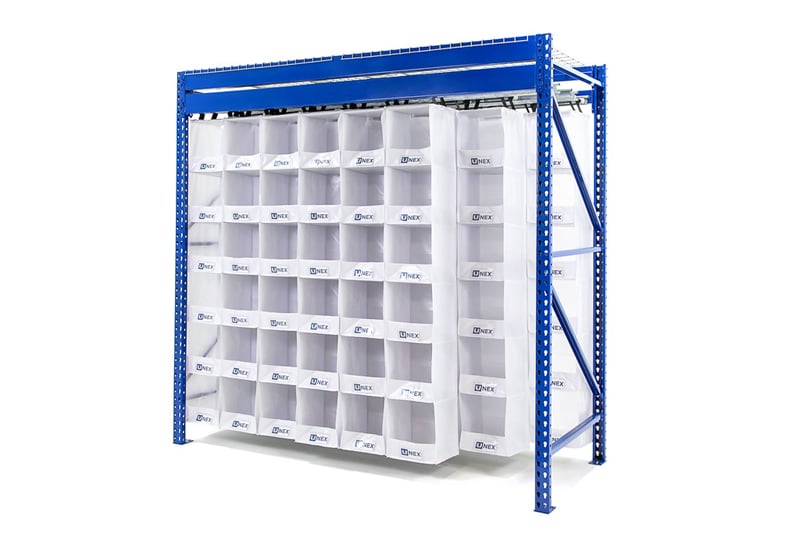 SpeedCell is a dynamic high-density industrial shelving solution that maximizes space utilization within pallet racks, helping warehouse and backroom operations improve pick speed and accuracy for valuable time and cost savings. SpeedCell is ideal for slow-moving each picks in warehousing, order fulfillment, and retail settings. This dynamic industrial shelving solution can be found in a variety of facilities that store many different types of products, from apparel to cosmetics, hardware, and more. And now, UNEX offers an even easier way to get started with this powerful dynamic storage solution...
Introducing SpeedCell Ready Bay - a complete dynamic industrial shelving solution that includes SpeedCell with a pre-assembled steel suspension system and rack structure that is ready for use in minutes.
What is SpeedCell Ready Bay?
If you have pallet racking, you're ready to install SpeedCell. It's that easy! But if you don't have existing rack, would like to purchase new rack, or you have an application where overhead space is limited, SpeedCell Ready Bay is the answer.
Ready Bay is offered in 6 standard sizes ranging from XS - XXL. Each Ready Bay includes:
SpeedCell columns in your choice of size
SpeedCell steel set suspension system (fully assembled)!
UNEX-supplied racking
Wire deck for extra storage space above your SpeedCell bay
Ready Bay starter kits come with 2 uprights and 4 beams so you can set up a standalone SpeedCell bay. Ready Bay add-on kits come with 1 upright and 4 beams to create multiple bays of SpeedCell.
SpeedCell Column Sizes
Selecting the right column size for your Ready Bay is simple; product size will be the primary factor in determining which size best suits your unique needs. You can choose from our 6 standard sizes between XS and XXL.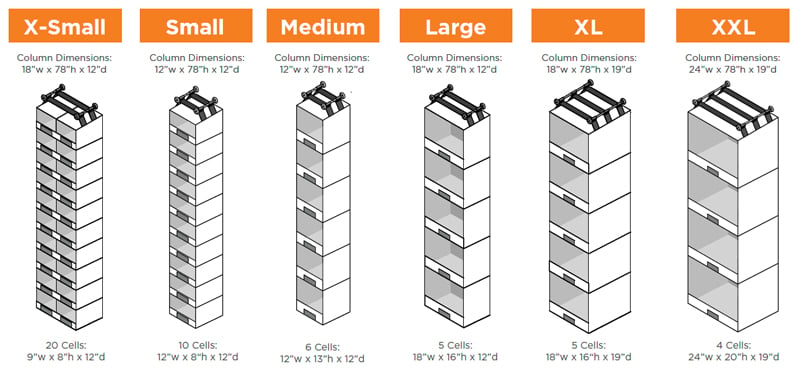 SpeedCell Ready Bay Features and Specifications
SpeedCell Columns
Operating temperature of -20° to 180°F (-29° to 82°C)
Resistant to flame and mold
Storage Capacity - cell: up to 35 lbs; column: up to 240 lbs
Columns are hung from the suspension system using high-strength webbing for maximum durability.
SpeedCell material is 13 oz. no-fray vinyl with an interwoven mesh inside to give it superior strength.
Cell base is supported by 2000gsm corrugated plastic.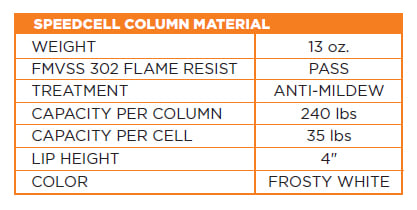 SpeedCell Steel Set
Configurable to fit nominal rack depths from 24"- 60" and widths from 48"- 144".
Suspended within selective rack or wide span rack system.
Fits within any type of beam: box, structural, or step; pick modules and mezzanine
Wire decking cannot be placed over SpeedCell when using structural-style support beams.
SpeedCell Ready Bay Racking
Rack size: 96" high x 96" wide x 42" deep
Drop-in beam clips for fast installation and adjustability
Modular design for maximum flexibility, create standalone SpeedCell units or add units to create multiple bays of high-density storage.
Racks are manufactured with welded uprights and roll-formed crossbeams.
Why SpeedCell Ready Bay?
When you need dynamic high-density industrial shelving and you don't have existing rack or you require new racking, Ready Bay is an excellent solution. SpeedCell Ready Bay allows operations to get up and running with a very dense storage system in a matter of minutes. Let's explore the top 4 challenges SpeedCell Ready Bay is ready to tackle!
1: You Need a Quick and Easy Solution
When you're ready to start saving more space in your facility and you want to get started quickly, look no further than SpeedCell Ready Bay! This dynamic high-density storage solution is ready to ship in just a few weeks and most of your bay comes pre-assembled for easy installation. When you purchase Ready Bay, the SpeedCell standard suspension system comes pre-assembled. The only thing you need to do is assemble the Ready Bay racking, hang the suspension system and columns, and install the wire deck on top. It couldn't be easier!
2: You Need a Better Solution for Storing Your Low-Throughput SKUs
At UNEX, we are very passionate about ensuring our customers understand the importance of storing SKUs according to throughput. Warehouse space optimization is the key to unlocking the full potential of your facility! For this reason, we realize that not every facility will require thousands of bays of high-density storage. But if you are currently storing your slow movers in static shelving, you may want to consider dynamic industrial shelving to help you reduce your storage footprint, and your costs.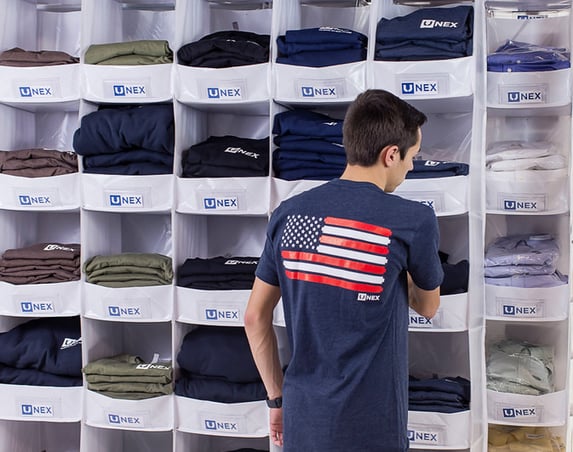 When you want to implement a single bay or a small number of bays you can dedicate to your slowest-moving SKUs, SpeedCell Ready Bay is a great fit. While Ready Bay can accommodate any type of SKU (depending on your unique product mix), it is a really great fit for storing your infrequently picked products.
Our starter bays have everything you need to implement a standalone bay of dynamic high-density shelving. If you want to connect multiple bays, you can purchase add-on units where each bay shares an upright. This helps you ensure you're only purchasing exactly what you need and nothing more so you can reduce your costs and improve space utilization (which in turn improves costs too)! Now that's a win.
3: Your Space is Limited
Is overhead space in your facility limited? SpeedCell Ready Bay is ideal for operations where vertical space may not be available or accessible. Ready Bay racks are 96" high, so they work very well in spaces where ceiling height is a challenge. Ready Bay also comes with wire deck so you can store reserve stock above your primary SKU locations.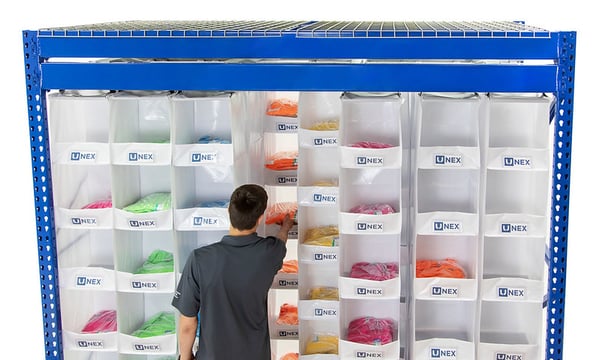 4: You Want to Try Dynamic High-Density Industrial Shelving
If you're looking to test dynamic high-density industrial shelving in your facility before making the full switch, it could be a good idea to start by purchasing one Ready Bay. This way, you can determine how this storage solution might meet your needs before purchasing multiple bays or outfitting an entire area of your facility. Once you've tested the solution and decided it is a good fit for your product mix and your team, you can expand into other key areas of your facility where you are looking to convert wasted space into usable storage.
Get Started with SpeedCell Ready Bay
Increase SKU density and improve space utilization in your operation when you upgrade your static shelving to SpeedCell dynamic high-density industrial shelving. No rack? No problem! SpeedCell Ready Bay is literally ready to go as soon as you are. Discover how SpeedCell Ready Bay will help you meet increasing consumer demand when you connect with our team of experts. Contact us today!